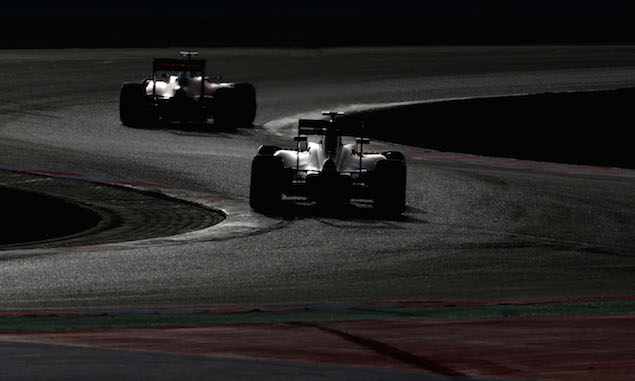 Radical regulation changes will be the subject of heated debate during crucial F1 meetings in Geneva on Tuesday.
A meeting of the F1 Strategy Group - comprising of six teams plus Bernie Ecclestone and FIA president Jean Todt - will take place this morning in an attempt to agree on a way forward with the 2017 regulations. That will be followed by a meeting of the F1 Commission - involving all teams and F1's key stakeholders - where a vote will take place over whether to introduce the changes.
F1 had been pushing ahead with plans to introduce faster and more aggressive-looking cars in 2017, but concerns from Mercedes regarding Pirelli's ability to cope with increased loads led to a watering down of the proposals in January. However, the teams could not agree on which direction to take, with today's meetings the last realistic chance to reach a resolution.
Should an agreement not be reached in Geneva today, any new changes to the regulations would require the unanimous agreement of all the teams, and as Red Bull team principal Christian Horner put it: "You might as well forget it."
Red Bull still wants to see radically increased downforce levels which will lower lap times by up to five seconds, with Horner saying Pirelli should not be used as a scapegoat because the tyre manufacturer says it can deliver a suitable tyre once the regulations are finalised and if given adequate testing allowances.
Mercedes, on the other hand, is wary of making sweeping changes which could have a negative impact on the racing.
"Certainly a very exciting day," Toto Wolff said. "Well timed to do it on the same day as the tests because we have so many tests then we can do it on the same day! We are not against the rule change. I think Formula One needs to be exciting and if we were to change the cars to a more exciting way of looking, generate more downforce, wider tyres, wider track, that is something we're very excited for and we are certainly up for the challenge.
"What we mustn't forget though is it is an overall package. I think in the discussion we had with Pirelli - which is our partner so we stick to our partner and we try to make them progress and they are trying to give us the best product for the show - that just needs to fit, and our opinion is just bolting on 50% more aero downforce can be detrimental for Formula One.
"It can be difficult for the tyre manufacturer to cope with. It's like saying to an engine manufacturer 'please deliver 2000hp'. The answer would be 'it's not feasible'. So do we want to ask Pirelli for something that's not feasible? We think it should be in discussion with them. That's one [point].
"Two is that we have worked on the current rules for a long time and while we can criticise them and say they're not good enough and a team is dominating, but the truth is overtaking is pretty good. Is it because of DRS? We wouldn't want to throw all of that away just because we want to roll the dice, and rolling the dice just means putting more downforce on and then hope there is good overtaking.
"G is not something that is visible to the spectator. It is certainly very visible and very hard for the driver and that is something we need to achieve but I wouldn't set it as the primary objective in order to increase the attention of the fan."
As well as changes to the technical regulations, significant changes to the sporting side of matters are also set to be debated.
"I'm sure on the agenda will come - if there is the discussion - a movement on qualifying," Horner said. "Theoretically if you start the fastest cars from the front of the grid it's logic that they should move away from the front of the field unless other strategies are at play.
"I think one of the things that will be tabled will be something that I think Bernie [Ecclestone] is quite keen on, which is reversing the top ten. Therefore having points for qualifying to encourage drivers to push on a Saturday and then encourage then to obviously race on a Sunday. I'm sure it will get discussed. Whether that will get agreed or not, I really don't know."
Ecclestone described the sport as "the worst it has ever been" on Monday, with both Horner and McLaren racing director Eric Boullier saying they understand Ecclestone's frustrations. Those frustrations are likely to grow if an agreement is not reached on Tuesday.
Report: Vettel tops opening day of testing as Mercedes racks up mileage
Follow live coverage and timing from pre-season testing here
GALLERY: Pre-season testing day one
Keep up to date with all the F1 news via Facebook and Twitter