Sebastian Vettel promoted women driving in Saudia Arabia with a special all-girl karting event that took place ahead of F1's premiere in the Kingdom.
The Aston Martin driver vowed to "concentrate on the positives" of racing in Saudi Arabia, where women were allowed to drive on public roads for the first time in 2018.
"It was really, really exciting," Vettel told the media in Jeddah.
"Obviously, there's been a lot of talk and thought heading into the race here, the first time we race in Saudi Arabia. A lot of questions that have been asked, and I've asked myself, so I was thinking of what I can do.
"We have so much attention, there's so much focus on negative examples when it comes to shortcomings of certain countries in regards to human rights and other things.
"But I really tried to think of the positives, so I set up my own karting event under the hashtag 'Race For Women'."
4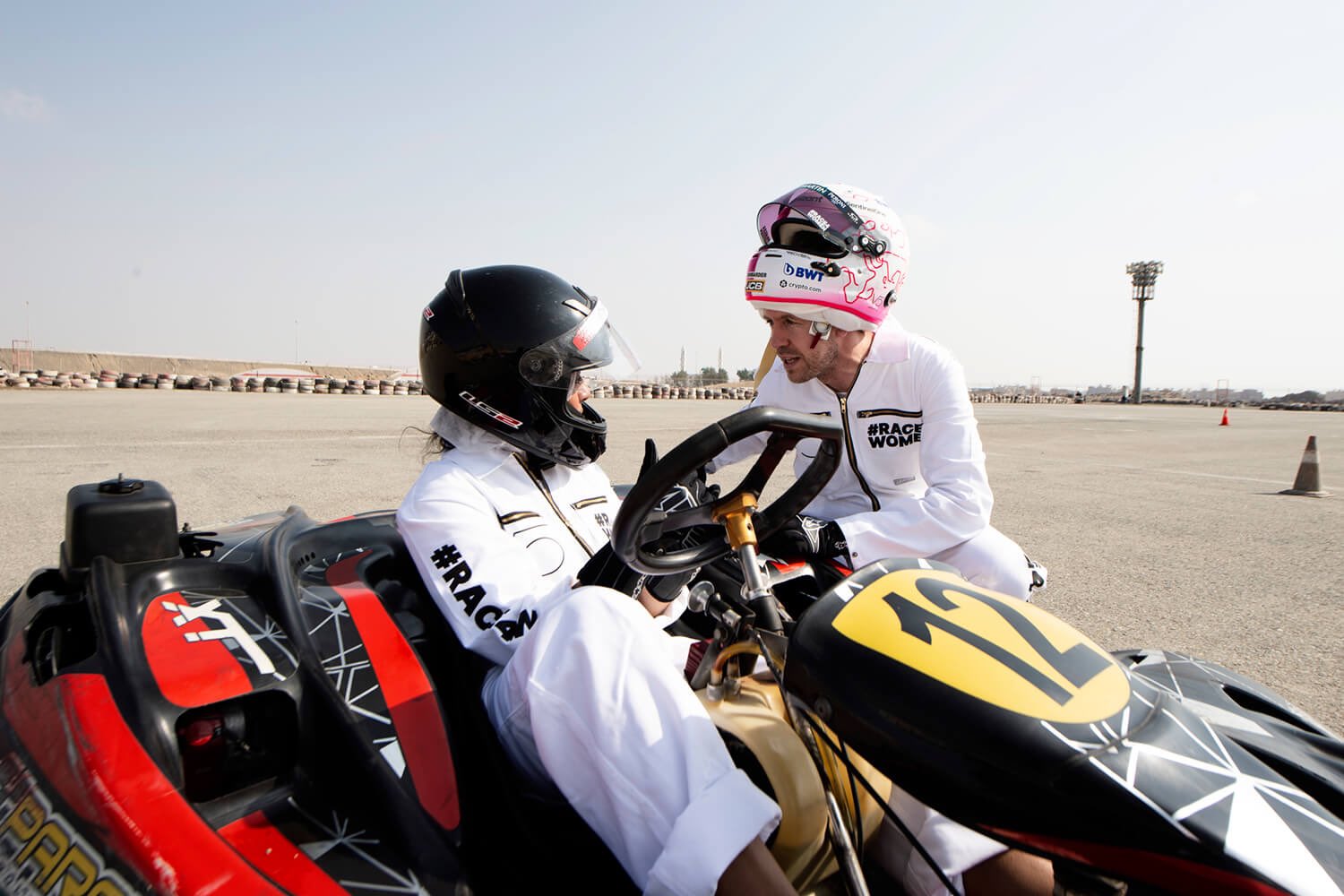 So Vettel rented a track and invited a group of women from different backgrounds to enjoy a karting experience and to not only give them a few pointers but also to learn from them a little more about life for women in Saudi Arabia's society.
"We had a group of seven or eight girls and women on the track and set up a nice event only for them," explained the seven-time F1 world champion.
"I was trying to pass on some of my experiences in life and obviously on track, to do something together, to grow their confidence.
"Obviously, in Saudi Arabia, women have only been allowed since [2018] to drive a car. So some of them had a licence, others did not.
"Some of them were huge F1 enthusiasts, others had nothing to do with Formula 1 or racing before today.
"So it was a good mix of women from different backgrounds and a great event - everybody was extremely happy."
Vettel admitted to being "inspired" by their stories and positively surprised by developments in the Kingdom regarding women's rights.
"I was very inspired by their stories and their background, their positivity about the change in the country.
"It's true that obviously, if we look from a Western or European lens, there are still lots of things that should be improved and have to be addressed, but it's also true that some things are changing. And for those people, they make a huge difference.
"So, in the end, it's very difficult for us to come to a country where we spend maybe only a couple of days and try to be a perfect judge by not knowing the background exactly and the people inside out.
"For me, it was important to get to know some of these women.
"I think it was a very memorable and inspiring day and a great way to kick off the weekend, and that's the main thing - focusing on the positive."
Keep up to date with all the F1 news via Facebook and Twitter