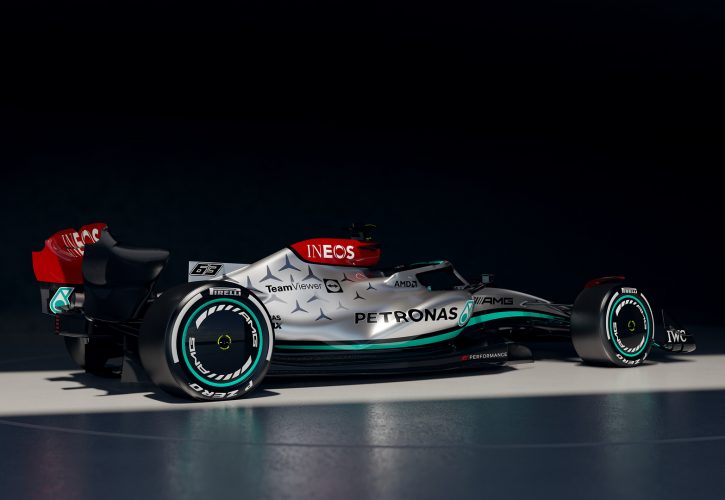 Mercedes will return to its traditional mainly silver livery for the 2022 world championship season, after two years of an all-black design to show its support for anti-racism initiatives.
But speaking at the official launch of the W13 at the squad's headquarters in Brackley, team boss Toto Wolff insisted the 'back to the future' look didn't mean they were pulling away from their support for accessibility and diversity within the sport.
"The black livery was a clear intent and a clear demonstration of our mission to become a more diverse and inclusive team," he explained on Friday. ""It has become part of our DNA.
"But the silver colour of the Silver Arrows is as much our DNA, it's our history," he pointed out.
"As a team, we have grown from the Silver Arrows to slowly becoming a more diverse and inclusive team. Therefore our colours going forward will be silver and black."
And Wolff said that this wasn't just a matter of political correctness or meeting targets.
"Increasing the diversity of our team isn't about meeting a quota," he said. "it's about recruiting the very best people regardless of ethnicity, gender, religion or sexual orientation."
"A diverse workforce drives performance," Wolff said. "People who might otherwise think a career in engineering, technology or motorsport isn't for them will widen the talent pool we have available.
Earlier this month Mercedes said that it had exceeded its initial target of 25 per cent of new recruits coming from under-represented groups in the first year of the team's Accelerate 25 programme.
The number of female employees rose from 12 per cent to 14 per cent, and the number from ethnic minorities rose from 3 per cent to 6 per cent contributing to an overal diversity figure of 38 per cent.
Weather permitting, the new-look W13 will get its first shakedown on Friday at Silverstone ahead of the first official pre-season test at the Circuit de Barcelona-Catalunya next week.
Gallery: The beautiful wives and girlfriends of F1 drivers
Keep up to date with all the F1 news via Facebook and Twitter