Jolyon Palmer says Ferrari's Carlos Sainz needs to "hit back soon" or risk morphing into a number 2 driver at the Scuderia at the service of championship leader Charles Leclerc.
After bagging good points in Bahrain and in Saudi Arabia, Sainz suffered a pointless weekend in Melbourne, marked by a cascade of troubles, one of which – his mishap on race day - was of his own making.
But the end result has left the Spaniard 38 points adrift from Leclerc in the Drivers' standings and at risk of becoming the Monegasque's imposed wingman if he doesn't reverse course.
But Palmer believes that Sainz's plight is linked to unfortunate circumstances and not a reflection of the contrast in performance between the Scuderia's two drivers.
"It is really tough on Carlos," Palmer told F1 TV. "He is now 38 points behind his team-mate and championship leader Charles Leclerc.
"He doesn't really deserve to be that far behind, so many things have just gone against him.
"It does seem he is morphing into the number two driver at Ferrari and it could have been so different.
"I don't think the performance difference between the two drivers has been as stark as the reality is.
"He has to hit back soon otherwise the team will start galvanising behind Leclerc as they have a cracking chance to win this championship."
Palmer reckons that the issues encountered by Sainz in qualifying and a technical glitch on the grid were the starting point that led to the Spaniard's demise on Sunday.
"First of all the first flying lap [in Q3] he is unlucky as he comes through out the final corner the lights go red for Fernando Alonso's crash behind, just seconds before he crosses the line as he doesn't get a time on the board.
"Last in Q3 that meant there was a lot more pressure on the final lap and Ferrari couldn't fire up the car.
"Because Sainz didn't have his car fired up in time he could only go straight out on a fast lap and that left him with tyres that were a little bit cooler than he would otherwise have liked for a flying lap.
"He ended up having a scruffy lap, including a huge moment where he nearly put it into the wall at Turn 10, and ended up in ninth place. Far from ideal."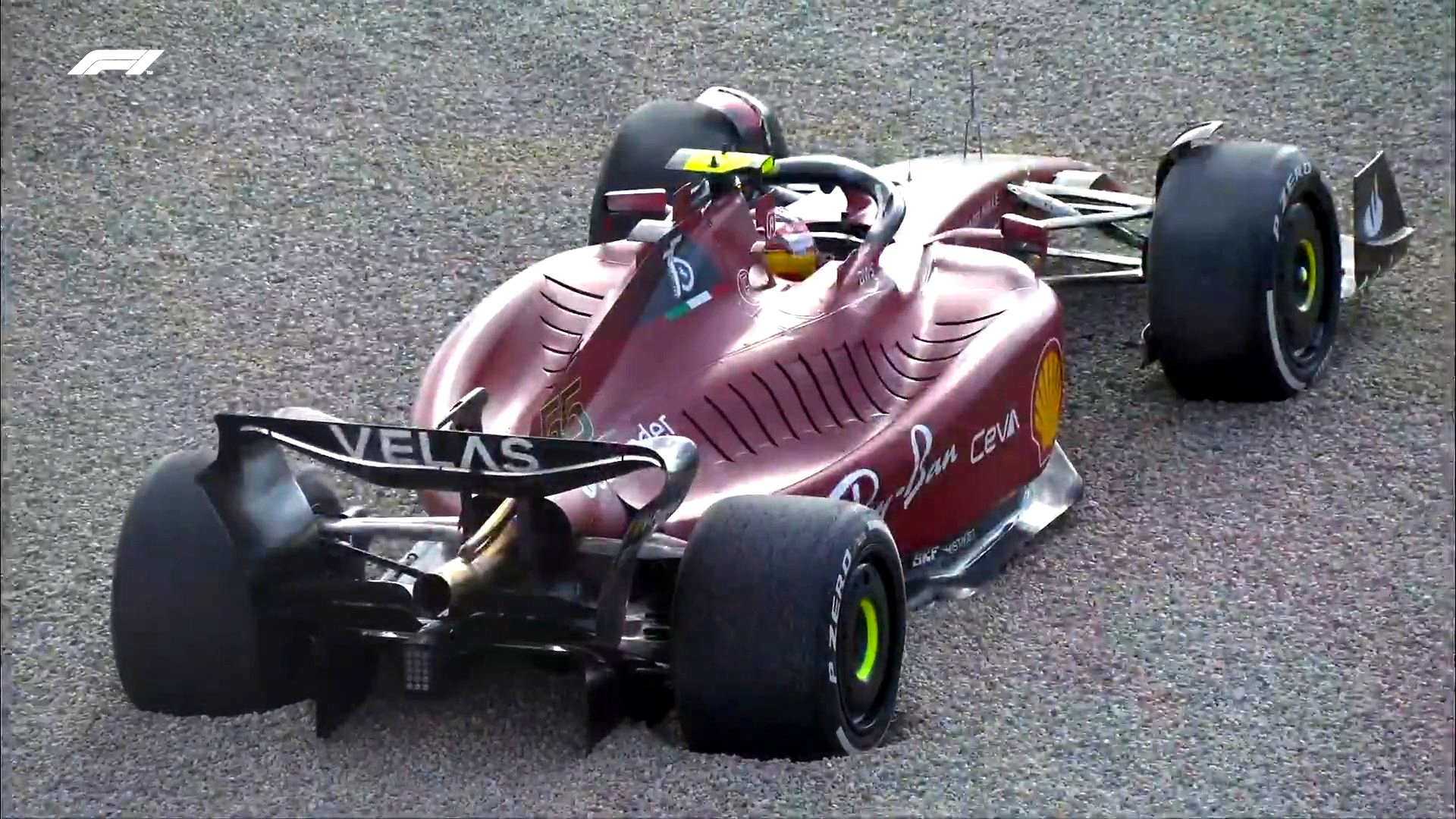 Sainz's case of Murphy's law continued to unravel on Sunday when a glitch forced Ferrari to change his steering wheel, a seemingly banal event.
But the change may have been what led to anti-stall kicking in at the start of Sainz's formation lap and later at the start of the race.
"He's got a new steering wheel, the clutch bite point is I think in a different place," the Briton explained.
"There is no plateau in the middle where normally you are hoping to drop it to around the middle of the paddle and that is going to be your sweet bite point for a perfect start.
"But Sainz hasn't found that, so he has dropped the clutch too deep and bogged it straight into an anti-stall."
After clocking in P14 at the end of the first lap, Sainz pulled out the stops to make up for the lost ground. But perhaps with excessive eagerness.
"He just overcooks it," commented Palmer. "Schumacher defends into Turn 9, no DRS here because it is so early in the race, and Carlos just zooms around the outside but he is so deep on the brakes that he has caught himself out.
"He is in so hot that he can't keep control, over the grass and now he is pointing the wrong way, needs to turn slightly to the right but he's just out of control and that is end of Carlos Sainz's grand prix really before it got going."
Keep up to date with all the F1 news via Facebook and Twitter