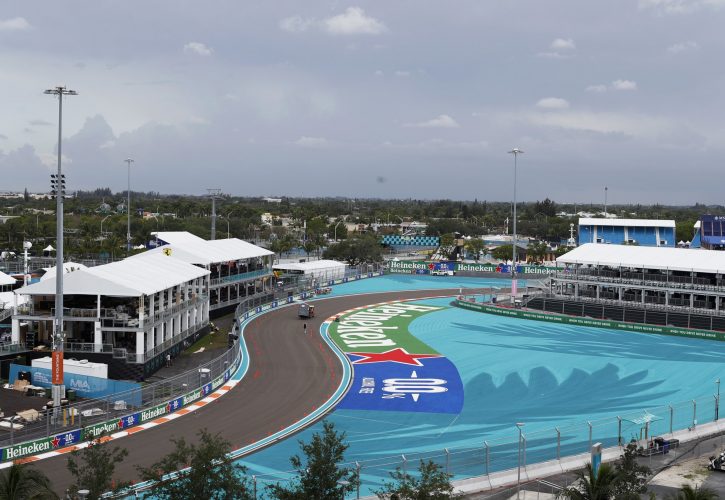 Miami's International Autodrome features a tricky final sequence of corners that the track's creator has called a "mistake generator" as it was purposefully designed to challenge drivers.
UK firm Apex Circuit Design was responsible for designing the 19-turn 5.412km track that was laid out around Miami Gardens' Hard Rock Stadium.
At the forefront of the circuit architects' design philosophy was the need to create a layout that would produce proper racing.
"As a company our ethos is to challenge all of the F1 teams, their cars, their race engineers and, of course, their drivers," explained Apex design engineer Charles Metcalfe.
"So we focus on corner sequences, a dynamic range of corners – from fast-speed to low-speed – and to achieve this we do a lot of simulation work and intentionally ensure there are different corner sequences in a lap which flatter different vehicle set ups.
"There is a very high speed and high lateral g section from Turns 4-8 where cars will likely struggle to pass and where vehicle performance on the exit of Turn 8 is critical to laptime, followed by two fast power-limited corners at Turn 9 and 10 where it is credible to imagine side-by side racing."
Apex Circuit Design founder Clive Bowen outlined how Miami's layout will challenge both drivers and engineers.
"We had to ensure that we had a racetrack that had enough of a Jekyll and Hyde personality that they were mostly sections with grade change and a lot of traction which require a soft setup on a car, then some super high-speed sections where you want to have a stiff setup to get the best from aero performance and therefore lateral grip through the corners," said Bowen.
But it's Miami's tight final sector - labeled a "mistake generator" by the track's architects - that will certainly get the drivers' attention.
"The sequence from Turn 13 through to 16 is where we thread the needle under the Turnpike overpasses," added Bowen.
"Going into Turn 14, you don't see the apex of Turn 15 until you're on the apex of Turn 14. It's what we call a 'mistake generator' so the opportunity for drivers to gain position because somebody in front overdrives is quite high."
Commenting on the tricky four-corner complex, AlphaTauri's Yuki Tsunoda who sampled the track in Red Bull's simulator said the sequence seemed akin to what one would find on a Formula E street circuit.
"I have driven the track on the simulator and the first two sectors are quite fast with some medium and high-speed corners," Tsunoda said.
"Sector three is what I call a 'Formula E sector' with a lot of very tight corners and I think overall it looks like being quite an interesting track to drive.
"I think it will be fun, although overtaking might be difficult, so we must qualify well."
Keep up to date with all the F1 news via Facebook and Twitter