Reigning world champion Max Verstappen says those at the helm of race control in Formula 1 need to work with drivers instead of "being stubborn" and remaining in their stance.
The ongoing debate this season over track limits and on-track battles enjoyed another episode in Austria.
In Sunday's race alone, 43 track limit violations were recorded by the stewards, with five-second penalties handed out to Zhou Guanyu, Lando Norris, Pierre Gasly and Sebastian Vettel for repeated offenses.
Several wheel-to-wheel fights and clashes also drew the scrutiny of the officials, with George Russell and Pierre Gasly also sanctioned with five-second punishments for their spats with Sergio Perez and Sebastian Vettel respectively.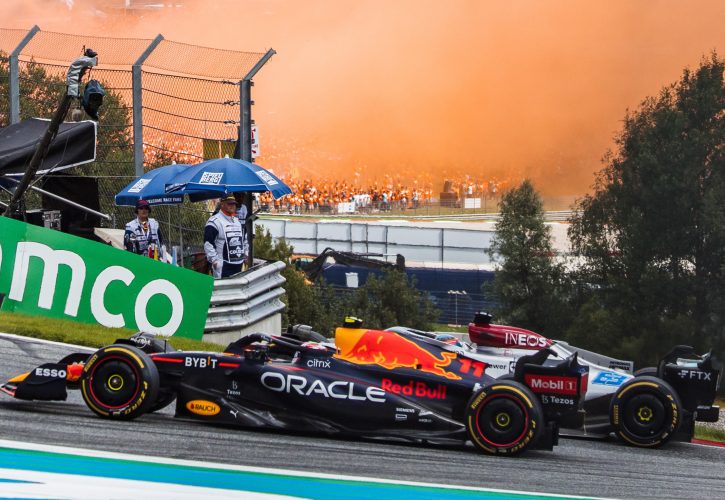 Russell in particular judged his sanction as "harsh". Although he admitted that he was in the wrong against Perez according to "the letter of the law" against Perez, the Mercedes driver argued that the "dynamics" of the situation left him in a position where he could do nothing to avoid the contact.
"The dynamics of every single incident is different," Russell said. "The fact was, Checo was on my outside and I needed to leave him space.
"But when he puts me in a position where I'm already at the limit of my car and somebody turns in with more grip, there's nowhere I can go.
"To the letter of the law, I was in the wrong and he was in the right.
"But from the second I braked, I was on the limit of my car and there's nothing more I could do. He was on the clean air, Carlos was on the inside defending.
"That's what happens on the first lap, he's got a lot of experience, he knows how it goes.
"But from the stewarding perspective, it's so difficult. We're all looking for consistency but we don't want penalties handed out left, right and centre.
"We need to be working together to establish for us all to be on the same page."
Russell believes that consistency would be better served by relying once again on a single race director instead of the FIA's new F1 structure where Niels Wittich and Eduardo Freitas rotate at the head of race control.
But while Max Verstappen agrees with his Mercedes rival that the sport's chief stewards should work closer with the drivers, the Dutchman doesn't believe that consistency is dependent on one race permanent race director.
The Red Bull driver doesn't see a structural problem but rather an attitude issue.
"I don't think necessarily it depends on one race director, I think it's more about working with the drivers instead of just keeping your stance and just being stubborn," Verstappen said in Austria, quoted by Motorsport.com.
"We want to make it better for everyone and it's not like we're fighting for
"We have good conversations between the drivers and at the end of the day, more or less, on most things we agree.
"Of course, everyone has their own opinions about certain things.
"Then the other thing is racing incidents and stuff. Yeah, for sure we can do better. I think we will work on it we'll try to make it better."
Keep up to date with all the F1 news via Facebook and Twitter