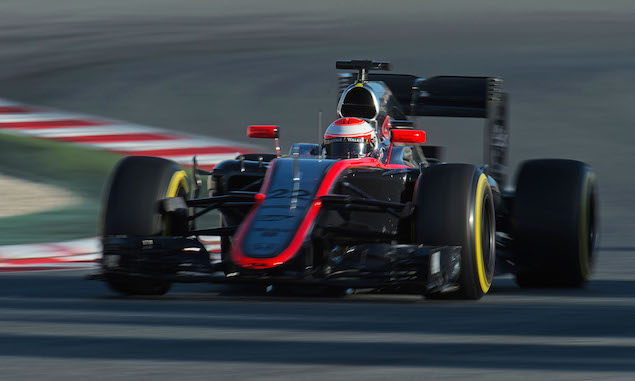 Jenson Button says McLaren's mileage on day two of the final test marks "a really big step forward" for the team.
McLaren's pre-season has been blighted by reliability issues with its Honda power unit since the first test at Jerez, and appeared to be continuing when Button was only able to complete seven laps on Thursday. However, Friday saw Button manage 101 laps on what was by far the most productive day for the team and he says McLaren has made huge strides overnight.
"Good progress made today," Button said. "It wasn't hard really from yesterday, but really nice to do 101 laps. Reliability has been great today, a really big step forward by everyone and a big effort by everyone which is great to see. It's amazing what you get done when you have a reliable car because all the tests that you can do, the comparisons, the aero work that you can't do because the car stops halfway through we were able to do today.
"So a lot of positives out of today. You look at the timing screens and we're nowhere near quick enough, but there's a lot of progress that has been made today and a lot that we can improve on for the next couple of days. All the engineers and aerodynamicists are all just sinking their teeth in to what we've done today, which is good.
"For most teams 100 laps isn't really anything but for us it's like 1000 laps because there's still so much for us to learn about this package."
Despite his optimism, Button was keen to highlight how much work McLaren still has to do to prepare for Melbourne.
"We know there's more that we can achieve with the power unit but we're trying to push as much as we can right now. Where do I think we are? I think we've made good progress but there's still a long way to go. There's a lot to work with in terms of the way the car feels."
Full times and day two as it happened
Click here for the gallery from day two of the final test