"Maybe for you, I am not a very good client…"
Jean Todt knows he is no Max Mosley. Following a week when Mosley's autobiography has been released - documenting the ways he and Bernie Ecclestone helped shape F1 - Todt retains a quieter, less visible approach to the governance of F1 in his role as FIA president. It is an approach that can draw criticism when the sport requires strong leadership, but Todt isn't interested in comparisons between himself and his predecessor.
"Max is a very smart guy," Todt told reporters including F1i in Paris. "He has his style. I don't want to say I am smart, but I have my style and it is completely different. You can maybe ask about what it is you do for Formula 1. Max had 16 years to do a lot of things, which he did at different levels. It was his time and now it is my time and I am happy to be judged when I have finished my contribution for FIA for what has been done and not been done.
"I am regularly judged and in a way it is part of the job. You prefer to see good things rather than bad, but I know that you have a way which you want to go, you have the federation, you have ambitions you want to achieve and that remains my line and my motivation."
Having achieved huge success as Ferrari team principal, Todt has always focused on ensuring he has experts around him in every area who can inform and advise him. It leads to a lack of bold personal statements on any and everything under his jurisdiction, but even at the age of 69 Todt is willing to learn from his critics.
"All in all I am prepared to be criticised and I am prepared to learn from the criticism if they bring me something, so I can deal with it and it gives me input which I am happy to take on board. I think you can achieve much more by ignoring confrontation, rather than by confrontation.
"Saying that, if you see in detail in my life and my career, even at the FIA, when it was in need in confrontation I have been in confrontation and I would say so far I have not done badly. If I can avoid it, I prefer to avoid it.
"If this was on a more global level I think we will have less war. I love motorsport but it has to be left as a show, as a technology, as a laboratory and all that, but I feel in your life you have a lot of other things. Maybe at this point in my life, because when you're very young you start your own mission; I started as a co-driver, a manager, a very well paid manager, a volunteer, so it is just evolution of life.
People may interpret that as me not being interested in F1, but that is not true
"Maybe I put more interest on the things that are not directly linked to Formula 1. People may interpret that as me not being interested in F1, but that is not true. But I am not only interested by Formula 1."
There's another reason Todt is not constantly being vocal when it comes to F1. The sport appears to like to portray itself as being in a state of perpetual crisis, but the FIA president is less concerned.
"The prescription I want for me, I don't think we are facing a cancer. We are facing a headache. So we need to find prescription for the headache. I disagree that we have to cure a cancer.
"In a way, the headache is on the way to be cured. We don't need big changes. I don't think F1 needs big changes. And if it would need big changes, then honestly I need to have some input. I need to know where it is, because I don't know where it is."
A key area of the sport which Todt highlights as needing protection is the engine, which the FIA wants to make cheaper for customers but is convinced was the right move for F1.
"For me it's like you feel a headache for three days in a row. So what do you do? You go to see the doctor, and then you need a prescription. So if Formula One has a headache, we need to define what is a good prescription. So if somebody says to me a good prescription is to get rid of these engines, I don't agree. I agree that they're too expensive but I do share that it was the right thing to have these engines."
Ecclestone has been a vocal opponent of the current power units, so it's a topic on which he and Todt are opposed. For the Frenchman, Ecclestone's distribution of prize funds is also incorrect, but it's an area over which he has no power. Todt rarely involves himself in matters beyond his own control in order to avoid controversy, but he says he is willing to allow Ecclestone to be part of the FIA's governance if it can benefit F1.
"I know Bernie very well. I know that he may tell you I am his best friend, then five minutes later I am the worst idiot I have met in his life. I live with that. The only thing is I will not get into that, because does it give something to the sport? It just creates some unnecessary gossip. Bernie, I don't have any problems with him getting more involved if he has to be, if it is bringing something on board.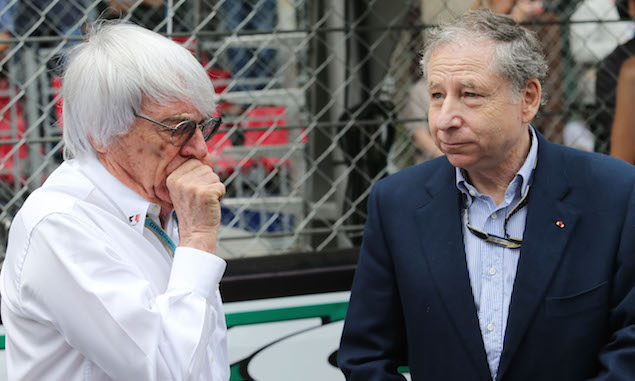 "I could tell him something. I told him and Donald Mackenzie that they completely went wrong in the distribution of the money. It is not my responsibility, but when it is open to discussion, we are able to discuss and they agree with me. But that is their responsibility. If Bernie, if Donald or whoever would comment 'why you don't do that', obviously I am happy to take it on board.
"I am less happy if Bernie says 'we don't need the FIA, they are idiots', because he cannot get rid of the FIA. If it's not me, there will be another one – he may be better, he may be worse. It is part of the institution. I am not against him making comments if it's a constructive thing. If it is not constructive, you should not do it. It is his style, do I intend to change him? I don't intend to change him."
Working more closely with Ecclestone could allow the teams in the Strategy Group to be bypassed, a move which Red Bull team principal Christian Horner believes would be a positive step for F1. Todt is ready and willing to take the power away from the teams, but would also want to ensure there is no criticism of such a major change.
"The Strategy Group is a kind of Strategy Group without any official rights, because the Strategy Group is making proposals and sometimes I am accused of being too democratic and listening to too many people. But I am happy to listen to any kind of suggestions as long as they are constructive suggestions. Incidentally Charlie Whiting who is head of the F1 department, he has meetings with all the teams all the year through – with technical people, with sporting people and from there he comes back with a proposed agenda which we discuss at the Strategy Group.
"The Strategy Group then is a kind of consultation body; it is then presenting proposals to the F1 commission, where each team - and I made sure of that as it was not the case at the beginning - where each team has the same right. Each team has a vote. And then we say move forwards or we don't move forwards.
"They are making a big story about the Strategy Group. I have read that quite often that it should be FIA or FOM to decide. Again I am quite happy to sit with Bernie and to decide what could be good for the sport, but again we need to be sure that it is good for the sport.
"Believe me; those who claim that they should be involved and that it should be FIA and the Commercial Rights Holder to decide, they will be the first to shout and say 'they are not following the right governance [procedures]. They did not consult us'. So there is a way to do that.
"If they keep saying that it should be us to decide, then I should ask for an official mandate. I will have that in writing. So okay, if they want it, give us an official mandate and then we will see how they react. It is a lot of talking."
Talking is something Todt is accused of not doing enough, but he insists he will take action if it is required to help F1. One thing is clear: he wants to ensure the FIA has a major say in writing any prescriptions to cure the headache.