Exactly 12 months ago in Jerez, Renault Sport F1's Rémi Taffin was in the hot seat and facing an intense media grill after the French hybrid power unit had a calamitous track debut. A year later, the newly appointed director of operations looked more relaxed when F1i met him in the office located upstairs of the yellow transporter that delivers the power units around the world's circuits. Taffin is well aware of the hard task Renault has on its hands if it wants to upset the Mercedes supremacy. But the French engineer remains confident Viry can genuinely challenge for victory in the coming months.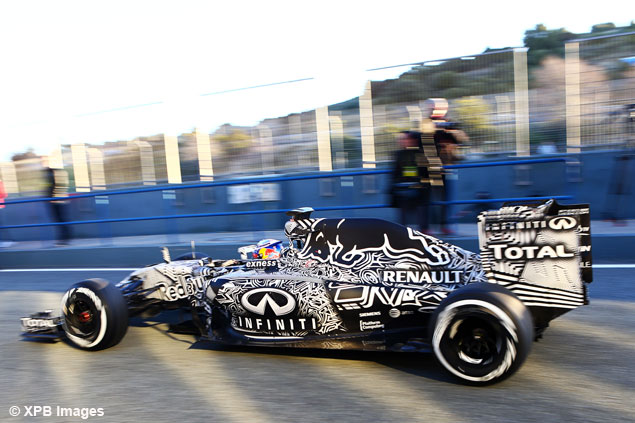 The Red Bull-Renault partnership experienced another tentative start to the 2015 preseason in Jerez. 
What first conclusions do you draw from the opening preseason testing session?
Of course, we feel much better compared to what happened in 2014! We've completed a significant number of laps, but not as many as we'd hoped for. There are still some reliability niggles, which affected more Red Bull than Toro Rosso, but covering over 2,000km on track yielded some reassuring results in relation to what we've seen on the dyno. We did not push for performance but only aimed at validating our technical choices and gathering the maximum amount of data. These were still early stages for men and machines, especially after we took important decisions to reach the lofty targets we've set for this season.
Speaking of which, what are your goals for 2015 and what steps have you taken to succeed?
We've wiped the slate clean this year and start off on a new, solid footing. We've changed our methods and trackside organisation by adding a support leader in each team. The person will oversee the overall engine performance while two other technicians will run the cars. In order to close the gap, we had to be uncompromising, review everything that had not worked last year, and make sure to reach better efficiency in 2015. In terms of design, we've focused our efforts on the V6 internal combustion engine to make it more efficient, as well as the ERS to strengthen reliability. We'd already improved our level of performance at the end of last year, so our 2015 power unit is more an evolution than a revolution. Indeed, performance gains can mainly be found in the details.
What progress do you think you've already achieved?
We've definitely taken a step forward, but it remains difficult to know where we stand compared to our rivals who have also progressed, hopefully not as much as us. The situation will be clearer in Australia. Right now, we are not running the specifications we'll use in Melbourne. We're only at 80 or 90 per cent and will gradually pick up the pace and gain momentum to reach 100% by the season opener. Most developments will have been brought in the early stages of the season, but we'll keep some cards up our sleeves to improve the overall package during the year.
By necessity, Red Bull has become a Renault works team and the relations are heading in the right direction. 
Have you changed the engine configuration, taking inspiration from Mercedes' winning options for instance? 
We have drawn the lessons from 2014 and evaluated the possibility with our partner Red Bull. However, their [Mercedes'] design is quite different so we elected not to go that way and decided to use our experience to optimise our own concept instead. Last year, Mercedes got it right off the bat whereas our version was a bit rough, so there's now a wider scope for improvement on our side. Our target is to supply a competitive engine and develop a winning power unit with our partners.
Relations with Red Bull often seemed strained last year with thinly-veiled attacks on Renault… How is the atmosphere this season?
There were a few tensions because of mixed results and the ensuing frustration. We had just experienced an amazing period of uninterrupted success and Red Bull expected to carry on the same path. We still managed to win three Grand Prix together, with Daniel Ricciardo, while also showing significant signs of progress throughout the year. There were some misunderstandings and communication sometimes was a bit problematic, but it had more to do with politics than anything in the technical field. Trackside teams are well aware that we must push in the same direction instead of blaming each other, which always ends up being counterproductive. I can assure you that the relations between all the engineers are good, with everybody sharing the same mindset and willing to move forward.
Both Toro Rosso rookies have already been able to rack up significant mileage in Jerez.
It looked like the RB11 still suffered from teething problems in Jerez. What are the causes?
We have been quite aggressive in our development calls on the 2015 power unit. Therefore, some parts had not been thoroughly tested on the dyno prior to taking to the track. We've already put in place measures to prevent any further issues. Red Bull experienced more problems because the power unit integration process is different on the RB11, compared to Toro Rosso's STR10; the intercooler installation is not the same for instance. We tried to anticipate by changing parts because it takes three or four hours to replace the whole engine. Fortunately, Toro Rosso was able to complete much more mileage, which helped their two rookies gain significant on-track experience.
How are things looking ahead of the next testing session in Barcelona? Do you think it will give a first indication of the 2015 pecking order? 
In Jerez, I think we were 1.5s off our potential in terms of raw pace, but we had to preserve the power units in order to get mileage. In Barcelona, we'll move more to the performance aspect of the engine and explore its limits. As for this year's pecking order, it remains hard to ascertain because nobody knows who is doing what, who is running with 100kg of fuel on board, who is using 30-lap-old tyres, etc. It's a bit pointless to compare lap times at this stage. Every team is following their own development programmes and we'll only get the true answers in Melbourne. In 2014, you wrote in F1i Magazine that we'd experienced a season in hell… Well, I hope that your end-of-year headlines will read 'One hell of a season for Renault'!
Remi Taffin was talking to Pierre Van Vliet, editor-in-chief at F1i.com FR.