This Thursday sees the start of the second test of the winter and the pressure will be ramping up at the Catalunya circuit as the teams face up to the fact they have just eight days of track time before Melbourne. While the eyes of the F1 world will therefore be firmly focused on Barcelona, actually the real hotbed of activity is back in the teams' respective factories. Not only are the design, engineering and manufacturing departments flat out preparing for the start of the season, everyone has to be on standby, ready to react to anything that testing might throw up.
Keeping tabs on testing is a multi-layered task, as Williams' Chief Test and Support Engineer, Rod Nelson explains.
"We've got three levels of operations input really. We've got the guys at the circuit; the race engineers, performance engineers, systems control people and aerodynamicists, and then we have a live support group back at the factory who track everything we do, from run to run and they are analysing our times and what other people are doing. They are tyre scientists, aerodynamicists and vehicle dynamicists. Then we've got a third group, the design people and, to a lesser extent, the production support group which means the stress engineers, engine systems, suspension designers, composites, transmission, electronics groups.
"So there are three layers of people and as you go through those layers, they become less associated with what the car's actually doing at any one minute and more strategic, looking at what might have failed and what are we going to do about it and how to get back on track."
The ideal test is the one with fewest surprises, as long as your performance is more or less what you are looking for, otherwise it can disrupt preparations back at base.
"The factory is pretty flat-out anyway and if, as a result of what we find at testing, we're having to make new brake ducts and bits and pieces we didn't expect to be making, then you obviously have to take the hit," says Nelson. "But here at Williams, we've got a good set up including quite a big rapid prototyping section, so a lot of parts of the car we can actually turn around very quickly indeed when it comes to non-structural components.
"The problem comes if you've got something structural like a rear wing collapsing or a front wing or there's some sort of chassis problem or suspension problem, because that can take a significant amount of time to turn around. In the old days, for instance suspension was fabricated steel and you could knock something up very quickly but nowadays, they're mostly composite - you've got to make a pattern then you make a mould then you make the part. There might be some fairly involved technique in making those parts, so if you do have a big failure in the first test then you're really on the back foot."
The key to making the most of the limited testing available is to be flexible and willing to improvise: "We've got a test list with several 100 questions on it and we got through a fair chunk of them in Jerez," continues Nelson. "You have to be kind of agile in that you have to be able to switch from one programme to another fairly quickly so we usually have a back-up plan and then probably even a tertiary back-up plan in case everything goes to egg and chips!"
Nelson cites Red Bull running without a front wing in Jerez as a good example of this flexibility.
"They were 30 seconds off the pace, unsurprisingly, but they still carried on working, checking that the bodywork isn't going to burn and can the driver get into eighth gear, can he get reverse in the pit lane and all that kind of homework you've got to tick off anyway."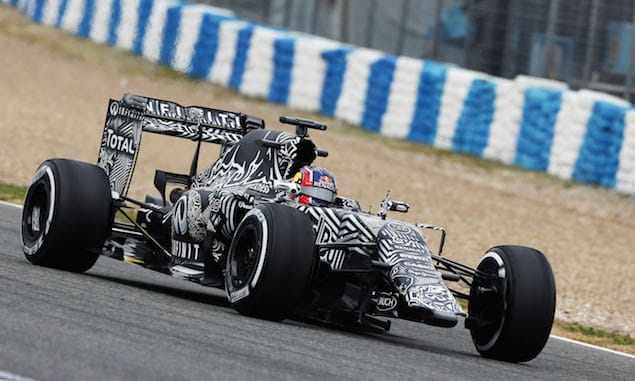 Despite the fact Jerez testing went well for the Grove outfit, Nelson is too experienced to allow optimism to get the better of him.
"You can always get a surprise when you go to a different circuit," he reckons. "The loading will be different and maybe you're using a bit more kerb and that's putting your suspension under greater stress. Most people won't have done significant performance work in Jerez because they'll be waiting for the slightly higher temperatures and more representative suspension loadings and aero loadings that we get in Barcelona, whereas they will have concentrated on reliability and systems work in Jerez."
The Catalunya track will paint a clearer picture of what we can expect in Melbourne in terms of performance, while all the teams will be keen to bang in some genuine race distances. However while all the data gathered from the track will be greedily gobbled up by the brains in the factory, a desire to change parts on the basis of a perceived performance advantage has to be balanced against the need for reliability and the ability of the production and manufacturing departments to knock out the bits.
"Most teams will have had predominantly new components on the cars in Jerez and at that stage, you've really got to decide what you're keeping and where the upgrades are coming, because you don't want to churn out six rear wings and then realise that there's something new and different with better performance or reliability or stability or whatever it is and scrap those," maintains Nelson. "That's not good from a financial point of view, but last minute changes could also mean you'll only have one or two examples of a particular component for Melbourne so you're constantly weighing things up, trying to work out where your performance is coming from and therefore what's important to concentrate on.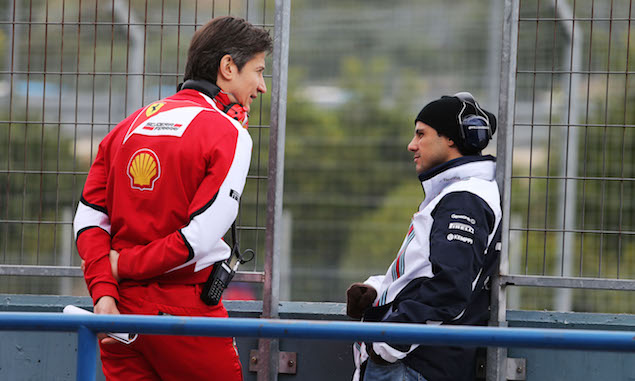 "One of the interesting things that you're always doing is balancing up risk against performance and you're trying to evaluate competitiveness all the time because that will affect how much risk you're prepared to take. For example, if you're extremely uncompetitive and you're only going to qualify 12th or thereabouts, then you're prepared to take a very big risk to get into the points, whereas if you think you're looking at second or third place on the grid, that will probably temper the amount of risk you're prepared to take."
With that risk assessment in mind, there's one other important job the teams have to tackle during testing and that's seeing what the other teams are up to. "We're just focussing on ourselves" is a popular quote during winter testing, usually from the teams that are in trouble. Although actually, Ferrari trotted out this mantra after Jerez where, surprisingly, it was fastest – maybe it was force of habit. But Nelson is happy to admit that watching the neighbours is most definitely on the job list.
"We're interested and not just for academic reasons, in how quick other people are," he concludes. "We need to assess where we are and the amount of risk we're prepared to take, so yes, you focus on yourself but you're always looking over your shoulder."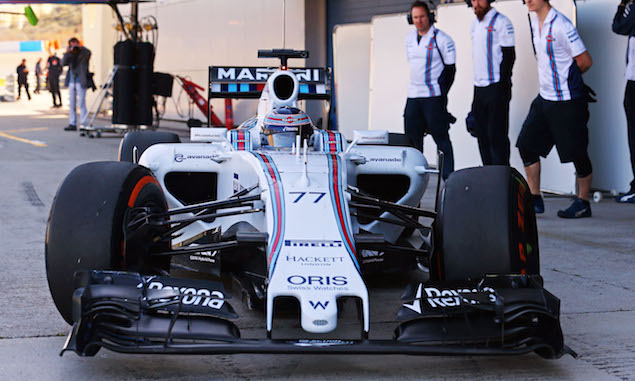 Feature: A closer look at the Williams FW37
Click here to see the full gallery of the first Williams FW37 images
Keep up to date with all the F1 news via Facebook and Twitter