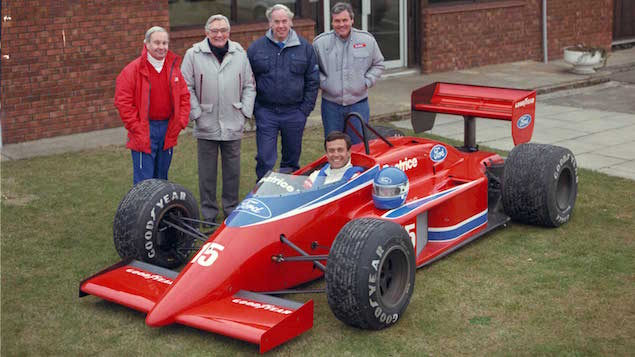 With countless wins and championships under his name on the US racing scene, Carl Haas was certainly a force to be reckoned with when he entered Formula 1 in 1985. And FORCE (Formula One Race Car Engineering) was exactly the moniker of the company set up to support his Grand Prix ambitions.
On paper, Haas's outfit looked quite impressive: proper funding was provided by the Beatrice Foods conglomerate, an exclusive engine deal was secured with Ford, and the team's organisation chart read like a who's who of Formula 1, with promising engineers Neil Oatley and a young fellow named Ross Brawn entrusted with design work, while former McLaren headmen Teddy Mayer and Tyler Alexander were on board overseeing race operations. Haas even convinced former world champion Alan Jones to exit a plushy retirement and resume driving duties.
Ford's twin-turbo V6 power plant was late in development, so the team's Beatrice-Lola THL1 made its debut at Monza in the summer of '85 powered by a straight-four engine supplied by Brian Hart. Unfortunately, the screaming little power plant, which also proved quite unreliable, was no match for the Ferrari and Renault V6 muscle-blocks.
Jones was unimpressed: "I used to call that engine a hand grenade because it would just blow up all the time. It was basically a stretched-out version of a two-litre F2 engine which was just too highly strung."
It's worth noting that Lola Cars, for which Haas acted as its American agent, actually had nothing to do with the car's design or development; the manufacturer's name was used just to add credibility to the operation.
Way off the pace in its early races, the elegant red and blue machine was finally fitted in 1986 with its prescribed Ford-badged Cosworth engine, while a second car was fielded for French driver Patrick Tambay. The team also recruited a young designer by the name of Adrian Newey, who would later conceive a plethora of winning Formula 1 cars for Williams, McLaren and, more recently, Red Bull.
"We had the facilities and expertise with Teddy Mayer and all the guys he had around him," recalls Tambay. "Carl, Teddy and Tyler Alexander put together a great lineup with Neil Oatley, Ross Brawn and Adrian Newey. My God! It was a dream team!"
There was marked improvement for the team and its drivers in the latter part of the season, with Jones and Tambay scoring a few championship points, although the Aussie remained tepid about moving the team up the grid.
"There was always the promise of that wonderful Ford engine," Jones remembers. "It was a beautifully-built little engine, like a piece of clockwork. But it was just gutless, and didn't do the job."
Unfortunately, a change of management at Beatrice Foods left Carl Haas without a sponsor for 1987. Attempts to find new backers were unsuccessful and left the cigar-touting manager with little option but to wind down its Formula 1 operation.
Assuredly, the divide between the team's potential, given all the right ingredients it appeared to enjoy from the outset, and its meagre results was huge. It proved once again that while resources were paramount, one still required the 'X' factor to succeed in Formula 1.