Alfa Romeo, 1950 British Grand Prix – Silverstone
The inaugural Formula 1 world championship was naturally bound to see a team win on its debut race and Alfa Romeo earned the accolade at Silverstone on 13 May 1950. Having been tipped as the heavy favourites, the Alfa Romeo 158s and their potent 1.5-litre straight-8 supercharged engines did not disappoint, securing a dominant 1-2-3-4 qualifying result in the capable hands of Giuseppe Farina, Luigi Fagioli, Juan Manuel Fangio, and Reg Parnell.
On race day, the 158s kept the edge to lead the entire grand prix and lock up all the podium positions, two laps ahead of their nearest rivals. Only Fangio's retirement after an oil leak denied the Italian make a perfect result. Farina, who would go on to become F1's first-ever world champion, took the chequered flag a couple of seconds before fellow Italian Fagioli, with US racer Parnell another 50 adrift.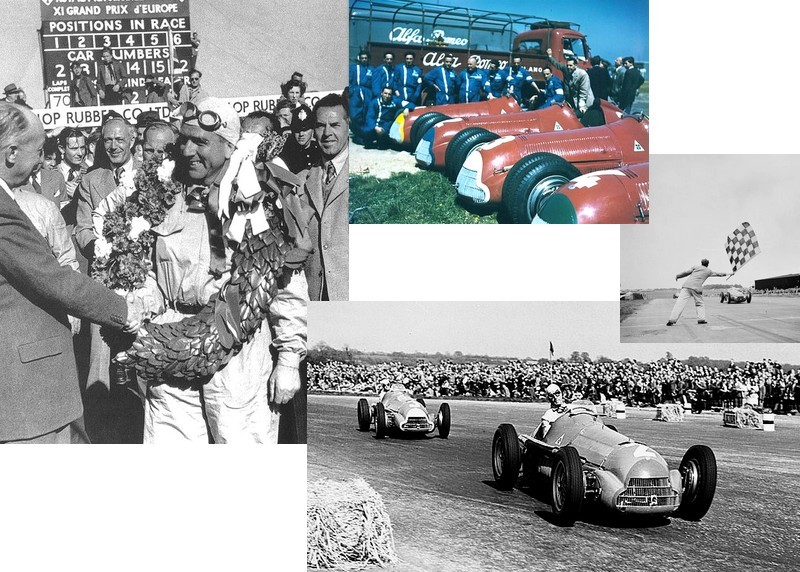 Farina kick started his 1950 title bid by claiming the inaugural F1 race at Silverstone
Alfa won six of the seven races held in 1950. On that year, the iconic Indy 500 counted towards the nascent F1 world championship but the only overseas event of the season did not attract any European competitor and went to Johnnie Parsons for Kurtis Kraft-Offenhauser, which, technically, also won on its F1 debut.
That did not prevent Alfa from securing a 1-2-3 finish in the Drivers' standings. The Italian manufacturer could have added the inaugural Constructors' championship but that particular trophy was only introduced in 1958.
In 1951, Fangio won the first of his five world titles with Alfa Romeo but the threat from Ferrari and Alberto Ascari was already looming. Alfa withdrew from F1 at the end of the season in the wake of major regulation changes and elected to refocus on sportscars instead.
The Italian marque would return as an engine supplier, powering for instance a third works McLaren for Alfa stalwart Andrea de Adamich in 1970, as well as a factory March for the same driver the following season. From 1976 to 1979, it supplied the Bernie Ecclestone-led Brabham team, albeit with limited success.
Alfa Romeo came back as a fully-fledged team before the end of the 1979 season. Run by its Autodelta competition department, the Italian constructor hardly set the world on fire over the next six years, picking up two pole positions, one fastest lap and a mere five podium finishes before pulling out in 1985. Small Italian outfit Osella continued to use Alfa's turbo engines until 1988, while the topic of a potential F1 return for the marque has been raised in recent years by Ferrari president Sergio Marchionne.