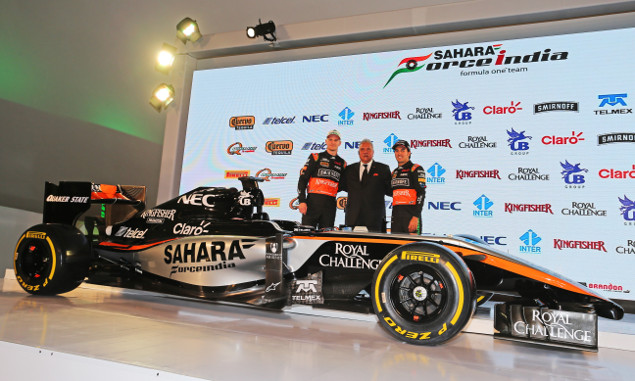 Thanks for the launch invitation Force India, but I wasn't about to buy a return ticket to Mexico City to see a new paint job and down some Tequila. I'm sure I will have a great time at the first Mexican GP in almost a quarter of a century, when it takes place in November, mainly because I can't remember a thing about my previous visits. That's a sure sign the nightlife was good, too good in some cases, as I do recall treading on a dead journalist, who's heart had given out on the steps of the Aristos hotel. I also remember everyone saying it was a tragedy – tell me about it; he was Italian and therefore had no freelance work worth stealing.
What have the other teams offered the press this winter? Not much to be honest, although Red Bull is bringing us to an indoor ski slope in Milton Keynes to meet Daniel Ricciardo and Daniil Kvyat and we can try going downhill fast, something Red Bull Racing itself did for the early part of 2014. Their junior mob Toro Rosso has invited us to drinks and the opportunity to speak to drivers and personnel on Saturday in Jerez before the first test, but apart from that, most teams have gone for that there internet thing to launch their cars on-line. Now, I'll admit the internet's a clever tool, but it hasn't found a way to pour champagne down your throat or hand over a nice commemorative three button chronograph, both being standard fare in the days when a Formula 1 car launch was a serious business, a cross between a motor show, a cabaret and the last days of the Roman Empire.
With most of those who attended now dead or retired, possibly because they were there, the 1979 Lotus launch, paid for by the secretive David Thieme of Essex Petroleum and staged in a Parisian night club is only talked about in hushed tones when no kids are around. The high point was the car being lowered from the ceiling with Mario Andretti sitting in the cockpit, but by this stage any thoughts of journalism and reportage had drowned in yet another bottle of expensive French wine.
Benetton always did things in style and I have vague memories of a long lunch in Venice before being boat-taxied and flown directly to Germany for a McLaren-Mercedes launch in a rare example of two teams working together to help the media. Blimey! Another Benetton launch involved the new car charging around the streets in Sicily and when it broke down, the inevitable happened and the car was almost reduced to its constituent parts by the souvenir-hungry and light-fingered locals.
Eddie Jordan was never shy about showing off and a launch at the London Palladium ended with the Benson and Hedges man paying for an excessive evening in a very sleazy club. And if you think this all sounds a tad sexist, please remember that, back in those unenlightened times, if you spotted a woman in the media centre at a race track, she was probably serving coffee or cleaning the desks. Jordan even hired London's Albert Hall where the Cirque du Soleil performed for our delectation.
Even staid Sauber took us to a theatre to watch some unintelligible musical and another year, the Sugababes were the feature act for the Swiss team. But if it's Pop royalty you are after, it had to be the first appearance of a West-sponsored McLaren in 1997 at London's Alexandra Palace. Mika Hakkinen and David Coulthard shared the stage with the Spice Girls at the height of their fame. It clearly had a long term effect on one of them as Geri "Ginger Spice" Halliwell is a keen Red Bull Racing fan.
Jaguar went down the sporty venue route for their first ever launch in 2000, taking over Lords Cricket Ground, which confused non-English media who understood nothing about cricket. Of course, once the season started, even the British hacks were confused by everything Jaguar did, including becoming the first team to try using a different Team Principal for each race, something Ferrari tried last year.
Austerity is the reason cited for today's lack of launch extravaganzas, but the fault really lies with the boring technical directors who insist they cannot spare their precious new car or staff for something as frivolous as a party. Never mind, there's only so many free watches you can wear at any one time.