Eric Silbermann is very much on-song as he ponders the outcome of the qualifying format row and what it means for Formula 1 moving forward, while also looking ahead to the prospects for clearing the air at the forthcoming Chinese Grand Prix in Shanghai...
The seemingly effortless reversion to the 2015 Qualifying regulations suggests that, before acceding to the wishes of the teams, of the TV companies and of you the fans, Messrs. Todt and Ecclestone have been listening to the lyrics of Elvis Costello and the Attractions:
Is there only pain and hatred and misery?...
…What's so funny about peace love and understanding?
Whatever we might think about the personal ambitions of the FIA president or the increasing eccentricities of the Promoter, both these guys have been around long enough to know that a bit of public popularity, a morsel of peace and love can go a long way. Or if they themselves didn't see it that way, at least their clever well-paid advisers did. The suggestion that the teams forced the two grands fromages to capitulate is laughable.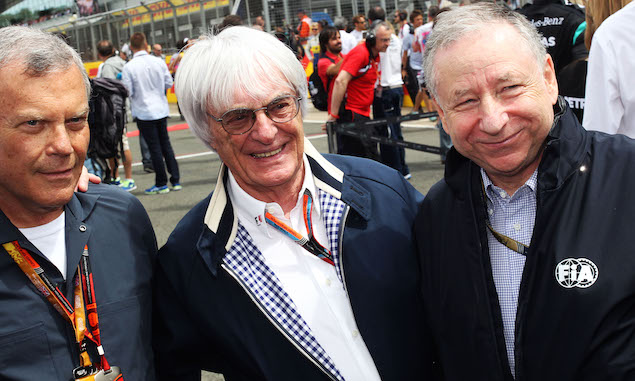 From the Todt-Ecclestone point of view, what better way to show some of that spirit of compromise, a sense of sensibility, a bit of understanding, than over an aspect of the sport which doesn't really matter that much, that takes place the day before the main event, that doesn't have a big impact in percentage terms on ticket sales or viewing figures and doesn't cost any money. Forget what you hear about the teams flexing their muscles, the FIA and FOM simply didn't care enough about this battle to fight it. They are keeping their powder dry for bigger confrontations, like the one over 2017 rules for example.
What next in this new mood of détente? Scrap the Strategy Group? When Ecclestone came up with the idea back in 2013, he thought it would be a case of divide and rule. However, as with most bilateral agreements, it managed only to divide, because quite naturally, the teams and players not included in the Group were ill disposed to anything it suggested.
However, I recommend forgetting all the politics, because as we head to China, for once the sun is actually shining on our sport, although you're unlikely to see the old currant bun through the polluted skies above Shanghai. I imagine China's F1 fans must be particularly pleased that the current hybrid Formula 1 cars belch out a tiny bit less bad stuff than their muscly predecessors, given that a well respected Californian research organisation reckons three-eighths of the Chinese population breath air that would be considered "unhealthy" by western standards. The report goes on to say that 4,400 people a day die in China because of polluted air. Whoopee for Formula 1 and its exhaust so pure! Why, they'll be prescribing it for chest infections next.
But to get back to the good news; after Melbourne and Bahrain it seems that we are in for a fantastic season with 11 teams all up to the task ahead of them, delivering a far more closely matched field than last year and 21 drivers who really deserve their place on the grid. With qualifying back to its exciting self and an interesting race track, we could be heading for a hat trick of thrilling grands prix to get the season underway. Will the team bosses be emboldened by their "victory" over the qualifying format and press FIA and FOM for more? I don't think so; just as Bernie and Jean knew the qualifying format wasn't a cause worth fighting for, so too the team principals will know better than to gloat and crow over the reversion to 2015 rules, choosing instead to praise the wisdom of the governing bodies and their esteemed leaders.
There's been much rejoicing over the decision to go back to a workable qualifying, which proves that sometimes the most obvious question gets buried. That question is how on earth did a concept of such arrant stupidity every get rubber-stamped in the first place? Especially when every engineer and strategist, not to mention the man in the street, was able to predict exactly how things would pan out well before we'd got to Melbourne. It would be nice to think that those who mess and tinker with our sport will make time to sit down and think carefully about why we got into the situation in the first place. Fat chance: my guess is there'll be a new deal to be done with yet another cash rich totalitarian state that wants to enjoy the rosy glow of hosting a grand prix, or maybe another road safety gig to organise in a country that barely has any roads.
The qualifying saga has ended in a victory for common sense, but before we get ahead of ourselves and start thinking that the power of the will of the people is the way to go, remember it's not that long ago we all got carried away by Gangnam Style.