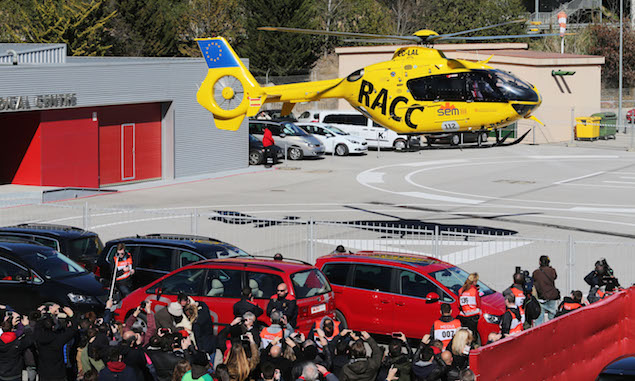 Frankly I'm a bit disappointed in all of you. I take a perfectly reasonable decision to leave you in charge of Formula 1 while testing is on and what do I find when I check in for news? You've made a complete mess of it.
It goes back to the second test and Fernando Alonso's unfortunate car-barrier-interface-scenario as Ron Dennis might have said. Actually, Ronspeak has gathered a momentum of its own over the years and like famous lines from films such as Humphrey Bogart apparently saying "Play it again Sam," many of the quotes attributed to the McLaren boss are pure fiction.
Pure fiction is the right way to describe the huge amount of rubbish written in the wake of the Spaniard's crash, much of it generated on the internet by people – I hesitate to use the word 'journalists' – who ought to know better. The suspension broke, there was a major power unit failure, Fernando was electrocuted, the list of theories was endless. Oh yes, and Vettel saw the crash and it "looked strange." Although it later transpired that, like any other mortal, the Ferrari man had simply indulged in a bit of good old fashioned rubber-necking as he drove past the scene of the crash.
I found all this nonsense very irritating, but not as irritating as the howls of indignation from sections of the Meeja, who berated McLaren for not handing out copies of Fernando's brain scan, news on the firmness of his stools and a rundown of what he had for breakfast.
If this is how those media turn on the teams, you can see why they might feel the way they do
This sense of entitlement, the idea that teams have some sort of obligation to spoon feed the press with information or that they should be morally bound to answer all questions is frankly ludicrous. After all, doctors sign an oath that, amongst other things, includes a promise not to divulge a patient's medical records. Now, while I accept that figures in the public eye are paid handsomely for the loss of some of their privacy, they should be entitled to be treated with common decency and respect at difficult times.
I blame the internet for much of this hysteria, with its constant demand for 24 hour news. In recent months, Formula 1 as a whole has been castigated for not embracing new forms of media to promote itself, but if this is how those media turn on the teams, you can see why they might feel the way they do.
When breaking news was a more leisurely affair, hacks often showed great initiative in getting a story. Stan "The Man" Piecha was only on his first weekend as a Grand Prix reporter for The Sun in 1989, when Gerhard Berger had his fiery crash at Imola. Wanting to know what happened, Stan took himself off to the Austrian hospital, disguised himself as a doctor and promptly appeared at Berger's bedside. The apocryphal tale is that Stan complained to the Ferrari man that he had a splitting headache after the long drive and Gerhard politely asked how he was feeling now!
Getting back to Dennis, he was recently quoted as saying that the reason his relationship with Alonso would work this time round was because he had mellowed. Much to my disappointment, he certainly has, because if this incident had all happened a few years ago, we would have been treated to a very entertaining rant about the gutter press. You see, not all change is good.
While everyone was chasing this non-story, a great tale seemed to slip through the cracks in that there interweb: I'm referring to the amazing photo of Ferrari team principal Maurizio Arrivabene, watching part of Saturday's testing, sitting in amongst the fans in the grandstand, accompanied by third driver Esteban Gutierrez - admittedly looking slightly uneasy - and Sporting Director Massimo Rivola.
I'm sure there's an anorak out there ready to prove me wrong, but I can never remember a grandee of the sport mingling with the great unwashed in a public area before. It was a great publicity coup for Arrivabene, who seems intent on shaking up the sleepy world of F1 PR and communications. I can hardly imagine any of his po-faced predecessors doing the same, apart from Domenicali maybe, but poor Stefano probably knew that if he left his desk for more than half an hour he'd find it gone when he returned.
The final day of testing as it happened