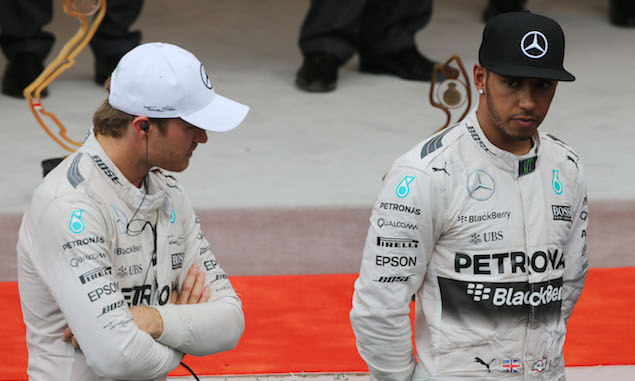 Nico Rosberg says he "got lucky" as Lewis Hamilton's pit stop error handed him victory in the Monaco Grand Prix.
Hamilton was dominated the race in Monaco and had a lead of 14 seconds over his team-mate when the safety car was deployed following a collision between Max Verstappen and Romain Grosjean. Hamilton pitted for new tyres while Rosberg and Sebastian Vettel stayed out, leaving the championship leader in third place and unable to pass in the closing laps.
Rosberg says he will take the victory having been in position to capitalise, but admits Hamilton had the better of him all weekend.
"Just very, very happy to have won the race," Rosberg said. "On the other side though, of course, Lewis was stronger this weekend. He deserved it for sure and I got lucky in the end there. I don't even know what happened. But, yeah, ecstatic about that anyways."
With Hamilton pitting, Rosberg says the thought never crossed his mind despite struggling with cold tyres.
"No, we didn't discuss pitting in the end. It was quite treacherous out there with those hard tyres because they were really stone cold. They were telling me the temperatures, we've never ever had those temperatures before I think in those tyres – but did the best I could and managed to bring them back up and push, so that worked out well in the end."
Click here for the Monaco Grand Prix gallery
Keep up to date with all the F1 news via Facebook and Twitter