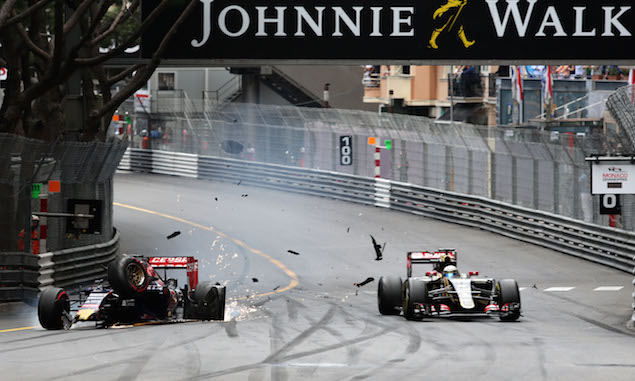 Max Verstappen has accused Romain Grosjean of brake testing him, causing his heavy accident in the Monaco Grand Prix.
Having been climbing through the field on new supersoft tyres, Verstappen was fighting Grosjean for tenth place when he hit the rear of the Lotus approaching Ste Devote. With Verstappen's front left suspension broken by the contact, he hit the wall head on at high speed, but was able to get out of the car unaided.
Saying he was uninjured in the incident, Verstappen blames Grosjean for changing his braking point substantially.
"The thing was, I braked in the same spot the lap before and he clearly braked ten to fifteen metres earlier," Verstappen said. "If you are that close to each other you have no room and you can't go anywhere. That really caught me by surprise."
Asked by NBC Sports' Will Buxton if he thought Grosjean brake tested him, he replied: "Kind of. He was for sure braking ten to fifteen metres earlier...
"It's very dangerous and for sure I will be a bit sore tomorrow."
The stewards did not agree with Verstappen, handing him a five place grid penalty for causing the collision.
Click here for a gallery of Max Verstappen's crash with Romain Grosjean during the Monaco Grand Prix
Keep up to date with all the F1 news via Facebook and Twitter