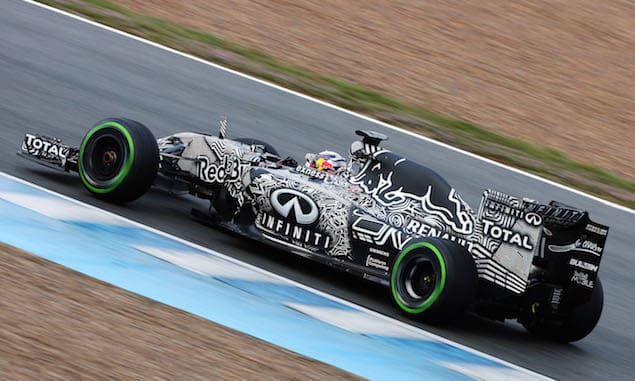 Christian Horner says Red Bull won't keep the camouflage livery that it is running in pre-season testing.
Daniel Ricciardo rolled out in the new RB11 on Sunday with the car covered in a black and white camouflage livery, aimed at making the detail of the car harder to follow. While Horner is pleased with the reaction to the different approach from the team, he says there will be a new livery in place by the start of the season.
Asked if those who like the current design will be left disappointed at the start of the season, Horner replied: "They won't be disappointed because the livery will be even stronger.
"It's great to do something different, it's been extremely well received. It's difficult to get detailed shots of the car because it confuses your eye line, but it obviously had a great reaction."
And Horner explained the idea came from a previous helmet design used by Sebastian Vettel last season.
"The camouflage livery came out of a helmet Sebastian ran last year (at Monza) that was quite fun. We thought it would be interesting to extend that concept to the rest of the car. Dietrich [Mateschitz] liked it when he saw it, and it epitomises Red Bull really that we like to do things a bit differently.
"To see a Red Bull in a different livery is quite striking and it also makes it quite difficult to get detailed photographs of the car at a time of year when we're all trying to be as secretive as we possibly can."
Click here for the full gallery of the Red Bull RB11 at Jerez
Keep up to date with all the F1 news via Facebook and Twitter