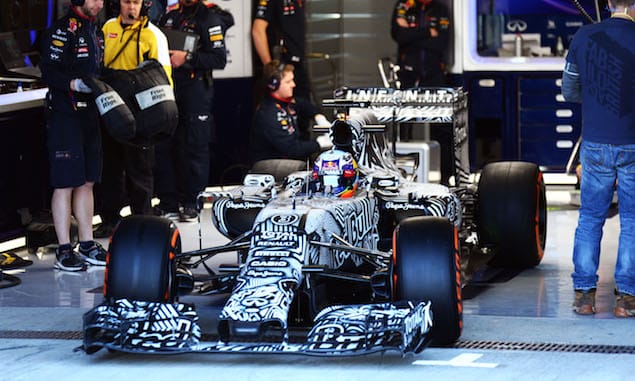 Daniel Ricciardo says he was ready for Red Bull's first test to be "compromised" by the updated Renault power unit.
Having only completed 35 laps on the opening day of pre-season testing, Ricciardo returned to the car on Tuesday but had completed just five laps before a power unit change confined him to the garage for a number of hours. Eventually completing 48 laps on day three - with only McLaren managing less - Ricciardo insists he has no concerns over the power unit reliability.
Asked if he felt Renault isn't ready, Ricciardo replied: "No.
"We came in to this test knowing it was a pretty big evolution from last year and we knew it was tight. Obviously we would love to do 150 laps here but we knew it would be compromised one way or another. We'll see, if Daniil [Kvyat] can rack up another 50 laps tomorrow I think that's not a bad first test for us."
And despite his limited running, Ricciardo said the 83 laps he has completed at Jerez has allowed him to get a feeling that the RB11 is better than last year's Red Bull.
"I guess everybody wants answers but it honestly is still early. Every lap we did I thought we learned something and I feel some improvements from last year so for now I'd say an improvement. Comparing to the others I can't compare yet. We didn't do a whole lot of laps compared to the others but every lap we did and turned I felt we learned something, we understood something.
"I'm looking forward to Barcelona, I think we'll have some more new parts on the car from both sides. We'll get some more running and maybe get a better understanding in respect of the others."