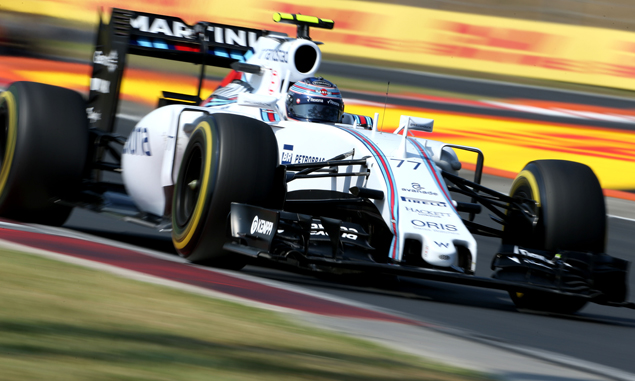 Valtteri Bottas says Williams' latest front wing specification is yielding "small gains" after sampling the revised assembly in free practice for the Hungarian Grand Prix.
The British team only brought one updated front wing to Budapest, with the Finn running the new design through its paces in FP1 in order to compare it with the old one.
Although benefits from the Mercedes-inspired novelty appear to be marginal, Williams and Bottas have eventually decided to carry on using the upgrade throughout the Hungary weekend.
"The step with the front wing is not easy to feel, it is quite small," said the 25-year-old. "I did my best FP1 time with the old wing but I think it was because the lap with the old wing was better than with the new one.
"When the difference is small, it is not easy to get the answer, but everything suggests it is a step in the right direction.
"I didn't feel any negatives. I am quite comfortable. Everything says it should be better and I am sure it is.
"These are maybe small gains, really small, but it is always welcome. At this type of track, the differences are in the hundredths so everything is going to help."
While Williams appears to have had the upper hand over Ferrari as the second-quickest team since last month's Canadian Grand Prix, this Friday saw the resurgence of Red Bull amongst the frontrunners.
But the situation does not seem to faze the unflappable Bottas, who finished P9 twice on a typically quiet opening day for Williams.
"We did our testing programme today, we focused on testing the front wing and did our normal work in FP2. We know how much we can improve for Saturday, but I hope it is enough. I think it will be closer here than at Silverstone.
"I haven't seen any lap times on the long run but it didn't feel too bad, but we need to see compared to the others. It was not far off from our normal Friday, so we can see how we can improve for tomorrow. Qualifying will be close.
"It's probably more difficult [to be second-best] here than at other places, but I think it is possible if we get everything right. There is still a possibility for a good qualifying."
REPORT: Hamilton heads Red Bull pair in FP2 hit by another red flag
Click here for a gallery of Sergio Perez's crash in FP1 at the Hungarian Grand Prix
Keep up to date with all the F1 news via Facebook and Twitter