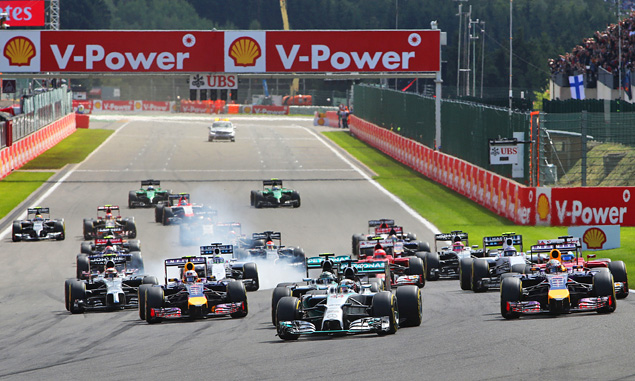 The introduction of new starting procedures for the first race back at Spa after the summer shutdown could prove 'unpredictable', fear teams.
New Formula One regulations that will be introduced for the first time this month for the Belgian Grand Prix aim to remove some of the technological aids that have been formerly available to drivers to get them off the starting grid with maximum efficiency.
But teams are worried about the consequences of the new procedures being rushed in so soon after the summer shutdown, and fear there has been insufficient time for preparations.
"Some engineers predict a mess at the start at La Source," reported Auto Motor Und Sport's motorsports reporter Michael Schmidt, adding that the FIA had been "bombarded" by communications from teams in recent weeks seeking clarification over precisely what is and isn't allowed under the new rules.
As a possible taste of things to come, Mercedes boss Toto Wolff commented that poor starts for Lewis Hamilton and Nico Rosberg at the Hungaroring last month might have been the result of the team's early preparations for the new starting procedure. He said the pre-planning could have distracted the drivers and caused them to take their eye off the ball in Budapest.
"Probably we've traded the future for the present. You should live in your time – we've probably experienced that," he admitted.
"I imagine the starts in Spa will be a lot like this," contributed Hamilton, referring to his own disastrous start in Hungary which cost him his pole position off the line. "It would have been a different race if I had a good start, but how I reacted was not the correct way.
"I expect more unpredictable starts. I imagine it is going to get worse. It's not dangerous, it's racing."
Over at Toro Rosso, Max Verstappen was displaying the confidence of youth when asked if he was concerned about the new start procedures.
"No not at all, it's the same for everyone. You just have to deal with the rules. For me it's okay.
"It's always different, so you don't really have a plan. I watch races from previous years, just to have an idea of where to go if this happens. In general you just hope to make a good start and from there on just anticipate what's happening in front of you.
"It's not easy," he admitted. "You have to find the right revs, you have to find the right pedal position and then you need to have a good reaction. Then after that you have to control the wheel spin, so it's not that easy."
The main rule changes include a fixed clutch bite point set on pit lane before the race instead of one that can be changed by software during the formation lap or in-race pit stops, together with a ban on radio communications from the team coaching their drivers on how to achieve the best start except in the event of a safety-critical emergency.
But teams have pointed out that the 2015-spec cars are designed to work with optimised couplings that are heat-sensitive and that removing the adjustability could lead to a spate of technical failures at Spa.
"If you start too often with the wrong pressure point, you can ruin the coupling," pointed out one team engineer. "You either have a bad start, or the thing will burn out later in the race."
Force India team manager Andy Stevenson also had concerns about the new start procedures: "The driver will know in advance that he will have a bad start, and he can't do anything," he pointed out.
Drivers will likely be warned by FIA officials before the race about cars ahead of them on the grid potentially getting a slow start or even stalling while trying to get underway, with the concern that unsighted drivers running at high speed might end up going straight into the back of an inadvertently stationary car while concentrating on the sprint down to La Source.
Click here to find out the budgets available to each F1 team during the 2015 season
Keep up to date with all the F1 news via Facebook and Twitter