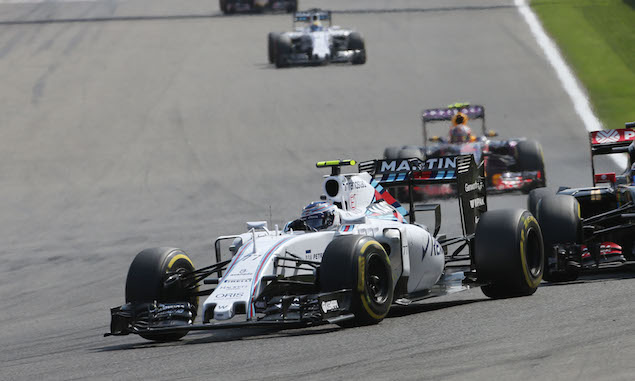 Valtteri Bottas says Williams' bizarre tyre error during the Belgian Grand Prix was "very disappointing" after struggling to ninth place.
Running in a pack of cars fighting for the top six, Bottas' first pit stop saw him attempt to take on a new set of soft tyres. However, a mistake by Williams saw his car fitted with three softs and a medium compound tyre on the right rear, resulting in a drive-through penalty.
While Bottas says the car's handling was not overly hurt but the error, he is unhappy at the disappointing mix-up.
"They told me the lap after my penalty when I asked what the problem was," Bottas told F1i. "I thought initially there was just a bit of a mistake with the tyre pressures because the corners to the left felt a bit different. It was still drivable, I mean I was not losing massive time because of that. Obviously a very disappointing mistake from us."
And Bottas admits he was surprised by how far off the pace Williams was in race trim.
Asked if he expected to be more competitive, Bottas replied: "We did, definitely.
"We struggled today with the option tyre and the prime we thought was going to be the worst one but actually it was the better one for us. So we need to look in to that.
"I really hope we are stronger [in Monza] and I do expect us to be also."
Click here for Sunday's gallery of the Belgian Grand Prix at Spa-Francorchamps. 
Keep up to date with all the F1 news via Facebook and Twitter