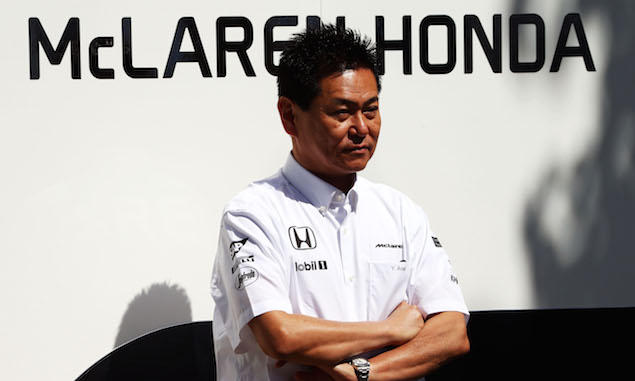 Cracks have started to appear in the McLaren-Honda relationship after another uncompetitive qualifying session at Monza.
McLaren was prepared for a tough weekend at the Italian Grand Prix, taking new internal combustion engines (ICE) on both cars which result in grid penalties. However, following a qualifying session in which both cars dropped out in Q1 - with Jenson Button 2.8s slower than Lewis Hamilton in the opening session - Fernando Alonso showed signs of frustration with Honda.
"There are many areas where we need to improve, but on a circuit with six corners we are losing two or three tenths through all those corners, and the rest of the three seconds you need to find on the straights," Alonso said. "On the straights we're full throttle, and there isn't much we can do. There's a lot of power that is important, and on this type of circuit you notice it even more."
Following Alonso's comments, both drivers, racing director Eric Boullier and Honda motorsport boss Yasuhisa Arai faced the media in a group session in the paddock. Arai found himself facing the majority of questions as sources within McLaren voiced discontent, but the Honda boss insists progress is being made.
"We measured the sensor on our [internal combustion engine] horsepower on the straight and the engine horsepower and deployment for MGU-K and unfortunately we saw less deployment in a straight line so that is the reason why the speed is not so good," Arai said.
"I think we're in a good direction but you know that the result is not so good. I hope we can do our best in the remainder of the season and we will use our tokens in the next few races…"
When pushed on reports he had claimed Honda's ICE delivers 25hp more than Renault's, Arai denied that was the case but believes it is comparable.
"I didn't say that exact number so it is a rumour, but I talk with other engineers at our team and maybe it is not so different and not so close. Maybe it is as good as the Renault but I don't know the exact number."
When asked if he agreed with Arai's assessment of where the power unit stands compared to other manufacturers, Boullier replied diplomatically: "As one team, I have to agree with Mr Arai's statement."
Hamilton holds off Ferrari challenge for 11th pole of the season
2016 F1 driver line-ups so far
F1 drivers' girlfriends gallery
Keep up to date with all the F1 news via Facebook and Twitter