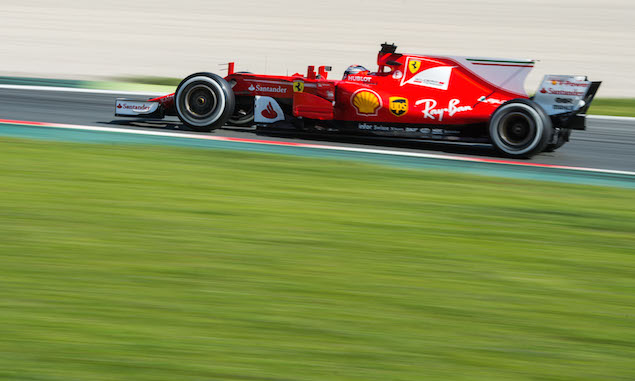 Kimi Raikkonen and Ferrari finished 2017's Formula 1 testing on top, as the Finn became the only driver to break into the 1min18s around Circuit de Barcelona-Catalunya over the past two weeks.
The 2007 world champion's 1:18.634 benchmark is over six seconds faster than Nico Rosberg's 2015 Spanish Grand Prix pole position of 1:24.681, with that year's times used as references to draft 2017's sweeping regulation changes aimed at making the cars up to five seconds quicker.
Coming off its second winless campaign in three years, the Scuderia has showed competitive pace throughout the two group sessions and managed to secure valuable mileage with the SF70H.
Reigning world champions Mercedes also displayed great durability with over 1000 laps completed for Valterri Bottas and Lewis Hamilton in eight days. Both drivers once again shared testing duties on the final day of action. The Finn narrowly edged the Briton for 0.005s, as the pair slotted into fourth and fifth respectively on Friday.
Second quickest was Red Bull's Max Verstappen but the Dutchman's progress was hampered by niggling turbo issues on his Renault power unit. The French manufacturer has admitted to ERS problems over the pre-season tests and will look to improve reliability ahead of the season-opening race in Melbourne in two weeks' time.
Former Toro Rosso team-mate Carlos Sainz placed third in the Renault-powered STR12, which enjoyed a smoother second week overall.
Sixth-placed Nico Hulkenberg led Sergio Perez, whom he partnered at Force India over the past three years, and current Renault team-mate Jolyon Palmer.
After enduring a character-building first week at the wheel of the Williams FW40, Lance Stroll enjoyed a much productive second outing. The Canadian teenager wrapped up the final day of preparations before his grand prix debut with 131 more laps under his belt and the ninth fastest time.
Next is Haas' Romain Grosjean, who caused two of the six red flags witnessed on Friday, including one for spinning into the gravel. The Frenchman is still not happy with his team's current brake supplier and has asked for a change.
Behind Grosjean is Fernando Alonso in what has been another challenging day for McLaren-Honda. The Spaniard's MCL32 stopped twice on track in the morning session in the wake of another electrical issue on his troublesome power unit.
The two-time world champion only outpaces the Sauber duo of Marcus Ericsson and Pascal Wehrlein and their year-old Ferrari engine.
With pre-season testing in the books, F1 teams will not set their sights to the Albert Park Circuit, which hosts the 2017 Australian Grand Prix on March 26.
| Pos | Driver | Team | Times | Laps | Tyres |
| --- | --- | --- | --- | --- | --- |
| 1 | Räikkönen | Ferrari | 1:18.634 | 110 | SS |
| 2 | Verstappen | Red Bull | 1:19.438 | 71 | SS |
| 3 | Sainz | Toro Rosso | 1:19.837 | 132 | US |
| 4 | Bottas | Mercedes | 1:19.845 | 53 | SS |
| 5 | Hamilton | Mercedes | 1:19.850 | 53 | US |
| 6 | Hülkenberg | Renault | 1:19.885 | 45 | US |
| 7 | Pérez | Force India | 1:20.116 | 128 | US |
| 8 | Palmer | Renault | 1:20.205 | 43 | US |
| 9 | Stroll | Williams | 1:20.335 | 131 | S |
| 10 | Grosjean | Haas | 1:21.110 | 76 | US |
| 11 | Alonso | McLaren | 1:21.389 | 43 | US |
| 12 | Ericsson | Sauber | 1:21.670 | 59 | SS |
| 13 | Wehrlein | Sauber | 1:23.527 | 42 | S |
GALLERY: F1 drivers' wives and girlfriends
Keep up to date with all the F1 news via Facebook and Twitter