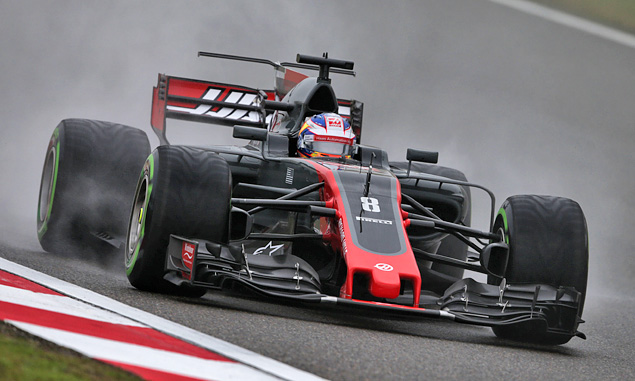 The Haas F1 Team said that there had been little opportunity to learn anything about the VF17 in the 20 minutes or so of track time available on Friday.
FP1 was curtailed because of safety concerns with the medical helicopter unable to fly to the designated support hospital. When conditions failed to improve, FP2 never even got started.
"There was nothing really learned today," said Kevin Magnussen, who had a brief early spin on his first lap of the damp Shanghai International Circuit.
"Hopefully we can get some driving in tomorrow. The forecast is meant to be better. We'll see. We want to drive, we want to be on track, but it was out of our control, so what can we do?"
"Not a lot can be learned from a day like today," concurred Haas team principal Guenther Steiner. "What can you do? We know our cars run, and that's about it.
"It's unfortunate that not a lot of running took place today for anyone, but you also understand why. We all take safety seriously, and if the medical helicopter can't fly because the conditions won't allow it, then it can't fly. It's pretty straightforward.
"Tomorrow is supposed to be a much better day weather-wise, making final practice and qualifying that much more important for the race."
But at least Romain Grosjean was feeling optimistic about how things were going in China.
"We managed a few laps in the morning, which is better than nothing," he said. " I've got a few ideas of work we need to do and where we need to go.
"We were planning to try that in FP2 but, obviously, that didn't happen. It's going to be a very busy Saturday morning and we're going to think about what the race is going to be.
"The car didn't feel too bad, so I'm pretty encouraged by that. We'll see how things develop through the weekend."
GALLERY: All the pictures from Friday in Shanghai
Keep up to date with all the F1 news via Facebook and Twitter