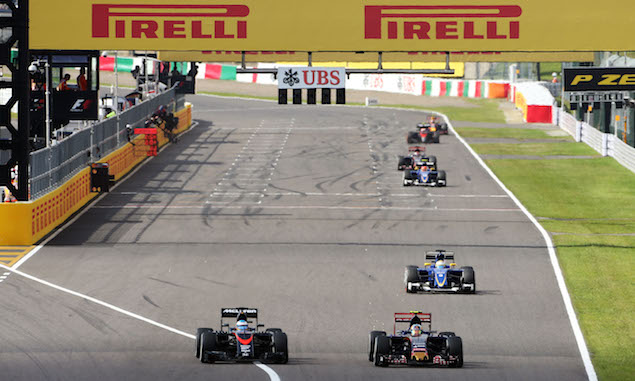 Fernando Alonso says he is "embarrassed" to be racing with a "GP2 engine" after struggling for straight-line speed in the Japanese Grand Prix.
Both McLaren-Hondas were passed with ease on numerous occasions using DRS in to Turn 1, with the Renault-powered Toro Rosso's of Carlos Sainz and Max Verstappen finding overtaking the McLaren relatively simple. Alonso had been running as high as ninth early on, but complained on team radio: "I'm being passed on the straights like it's GP2. It's embarrassing, very embarrassing."
Alonso later simply exclaimed: "GP2 engine! GP2! Argh!"
Explaining his comments - for which he was criticised by McLaren boss Ron Dennis - after Honda's home race, Alonso says he is frustrated how well he drives is negated by the power unit performance.
"I feel embarrassed when I am racing some times because it is frustrating when you see other cars making mistakes, braking late, going out of racing line, going sideways and, when you look in the mirror on the straights to look for them, they are side-by-side [with you] already," Alonso said. "The deficit we have on power is just like another category so it's tough to race like this.
"In terms of performance, hopefully next year, because I know they must change a lot of things on the power unit and the structure, so I think that will be a medium term job and for next year, not the remaining races."
RACE REPORT: Hamilton eases to dominant Suzuka victory
"I'm joking. You can laugh as well" - Rosberg and Vettel's awkward exchange
AS IT HAPPENED: Japanese Grand Prix
Click here for the F1 drivers' girlfriends gallery
Keep up to date with all the F1 news via Facebook and Twitter