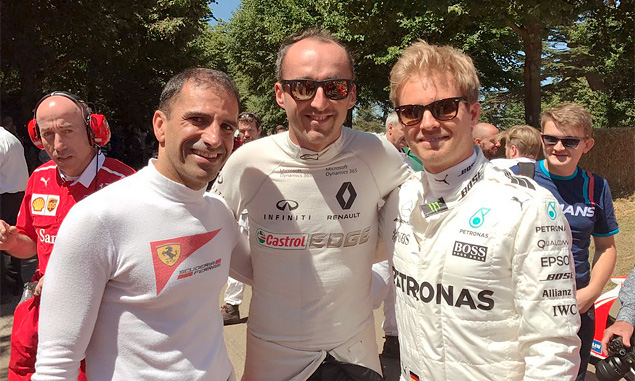 Former Formula 1 driver Robert Kubica was undoubtedly one of the star attractions at this weekend's Goodwood Festival of Speed.
The Polish driver was at the wheel of a Lotus 2012 car for a run up the hill in the grounds of Lord March's country home.
Kubica took part in 76 Grand Prix races between 2006 and 2010, first with BMW Sauber and subsequently with Renault. That came to an end when he was involved in an pre-season crash while competing in the Ronde di Andora rally in 2011.
He suffered a partial amputation of his forearm as well as compound fractures to his right elbow, shoulder and leg. The injuries to his hand and arm ended his Formula 1 career.
Kubica did subsequently recover sufficiently to start competing in the World Rally Championship between 2013 and 2016.
Earlier this year, six years after his accident, he finally took part in a F1 test with Renault in Valencia. That led to rumours of a possible Grand Prix return with the team in 2018.
While such speculation is still clearly premature, Kubica was certainly happy to be back behind the wheel of a Formula 1 car again this weekend at Goodwood.
"The feeling is good," he told Sky Sports after his hill run. "It's one of the best feelings I've had in the past years.
"It was a fantastic experience," he said. "I heard many a great stories about Festival of Speed week here. It was really a pleasure being here.
"An amazing event, very enjoyable and I hope the fans enjoyed it as much as I did.
"It's a great opportunity I had with Renault in Valencia with testing 2012 cars. Okay, here is just a show and enjoying the time, but the feeling and the emotions were special in Valencia so that's great."
Kubica was also asked his thoughts on the clash between Sebastian Vettel and Lewis Hamilton last weekend in Baku.
Vettel is currently under investigation by the FIA after seemingly retaliating against Hamilton 'brake-testing' him behind the safety car.
"It was kind of borderline," said Kubica. "My personal feeling is that Seb did bit too much reaction - overreacted. But it can happen.
"Of course I think he was the first one, he was not happy with it after the race," he suggested.
"Maybe sometimes it's difficult to admit it, but I'm sure he's intelligent enough and he knows that he went a bit too far.
"That's part of racing. When the battle gets spiced up, it's always important to keep your nerves on the place and be concentrated, be ambitious.
"But also keep everything under control, which is not easy when you're battling for a world championship."
GALLERY: F1 drivers' wives and girlfriends
Keep up to date with all the F1 news via Facebook and Twitter