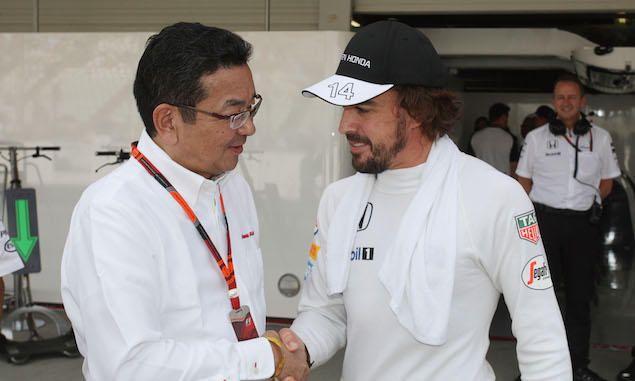 Fernando Alonso insists his radio outbursts during the Japanese Grand Prix were not aimed at Honda executives at Suzuka.
The Spaniard was unhappy at being overtaken so easily in a straight line during Sunday's race, describing the situation as "embarrassing" over team radio and at one stage shouting: "GP2 engine! GP2! Argh!"
With Honda's home race seeing a number of high-level executives from the engine manufacturer attending - including Honda CEO Takahiro Hachigo (pictured) - Alonso said he was not targeting them with the comments.
"They know – they don't need me to send any message of frustration."
And Alonso - who was criticised by Ron Dennis for his radio messages - says there were positive elements he could take from Sunday's race having finished in 11th place.
"Both cars finished after a double DNF in Singapore so, on the positive side, we keep improving reliability, keep improving from our weak points and don't repeat errors like in Singapore with the gearbox, so we must keep improving things."
RACE REPORT: Hamilton eases to dominant Suzuka victory
"I'm joking. You can laugh as well" - Rosberg and Vettel's awkward exchange
AS IT HAPPENED: Japanese Grand Prix
Click here for the F1 drivers' girlfriends gallery
Keep up to date with all the F1 news via Facebook and Twitter