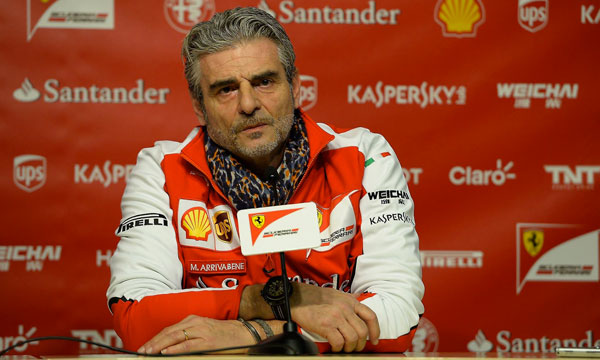 Ferrari team principal Maurizio Arrivabene says the Japanese Grand Prix showed Ferrari is closing the performance gap to Mercedes.
Mercedes struggled in Singapore and Sebastian Vettel took an impressive victory as Ferrari and Red Bull dominated on the softest tyre compounds which were selected for the street circuit. Suzuka presented a completely different challenge, with a switch to the hardest two types of tyre at the high-speed track, with Mercedes duly securing a one-two.
While Lewis Hamilton led home team-mate Nico Rosberg by 18 seconds, Vettel came home third, just 1.9s behind the second Mercedes. Arrivabene says the result highlights how much progress Ferrari has made over the last five races.
"When you are not winning of course you are disappointed, this is normal," Arrivabene said. "But the right comparison here is not with Singapore, it's with Silverstone. If you look at the gap that we had to Mercedes in Silverstone and the gap that we have here, it's shorter here - 12 seconds [sic]. That means we have improved a lot and as I said many, many times, certain tracks like Suzuka are not the tracks that are good for our car.
"I have to say that after Monza the engine helps, a lot! But as you know, the car is still more or less the same and I'm very proud about the work of all our engineers, of all our team and in particular about the engine department."
And Arrivabene says both Ferrari and Mercedes turned their engines down to protect their power units in the closing stages once he felt Vettel could not catch Rosberg again.
"The gap the was quite representative. The gap was quite representative because I think at the end Mercedes tried to save the engine, we were doing the same because at that stage it was insanity to try and get more, but I think it's quite realistic."
RACE REPORT: Hamilton eases to dominant Suzuka victory
"I'm joking. You can laugh as well" - Rosberg and Vettel's awkward exchange
AS IT HAPPENED: Japanese Grand Prix
Click here for the F1 drivers' girlfriends gallery
Keep up to date with all the F1 news via Facebook and Twitter