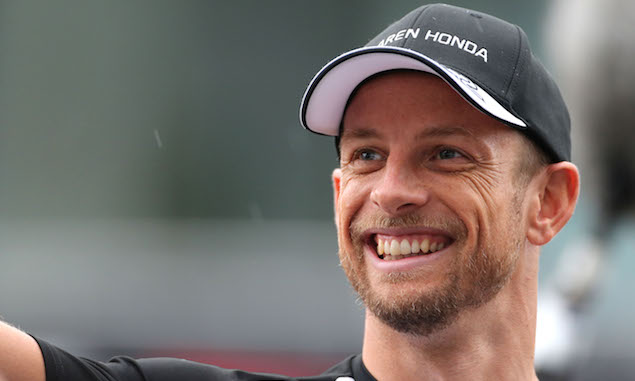 McLaren has announced Jenson Button will remain with the team for 2016.
Button signed a one-plus-one deal at the end of 2014 and had been uncertain of whether he would remain with McLaren next season following a disappointing year so far with Honda power. However, McLaren has now confirmed Button will retain his seat for 2016, with Ron Dennis saying he was convinced the 2009 world champion still has the desire to drive the team forward.
"Jenson and I have been discussing his plans in private for the past few weeks, and the fact that our talks have led to today's announcement is very pleasing to both of us and will delight and motivate all at McLaren-Honda," Dennis said.
"As I have made clear whenever I have been asked about the subject, Jenson's current contract is of two years' duration [2015 and 2016]. There is a 'terminate after year one' option that McLaren could have triggered if we had wished to do so, but, once it became clear from my many conversations with Jenson that he remained as enthusiastic and as committed and as focused as ever, that option immediately became an irrelevance. That being the case, Jenson will race for McLaren-Honda next year, under the terms and conditions as set out in the two-year contract that both parties entered into a year ago."
And Dennis says it is not just Button's experience which makes him so valuable to McLaren.
"As I say, I am extremely pleased. Jenson is the most experienced driver currently racing in Formula 1, and next season he is due to become only the third driver [after Rubens Barrichello and Michael Schumacher] in Formula 1 history to pass the milestone of 300 Grands Prix. But, although that wealth of experience makes him a massively valuable asset to our team, hugely expert in all aspects of the 21st-century Formula 1 driver's craft, he is also supremely fit and as super-fast as ever."