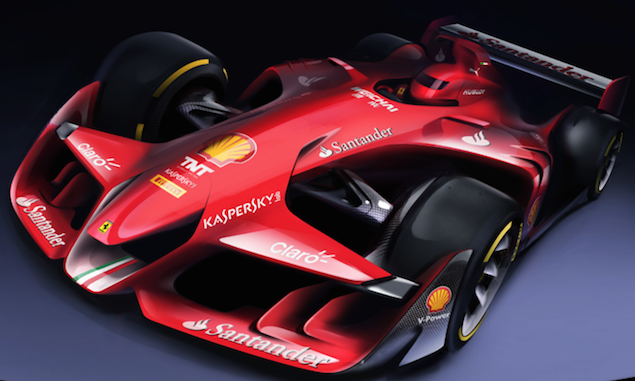 Ferrari has unveiled images of a concept Formula One car which it believes could be the future of the sport.
A meeting of the F1 Commission on Tuesday will see the future of F1 discussed, with potential changes being looked at for 2016 and 2017. While those talks take place in Geneva today, Ferrari has released images of a concept car for F1 in the future.
From the Ferrari design team, the car features lower and wider wings, heavily increased aerodynamics throughout as well as low profile tyres. While still open cockpit and open wheel, the driver's helmet appears to form part of the car's aerodynamics, while the rear wheels are covered at the back similar to the current generation of IndyCar.
Ferrari is keen to see change in F1, with the concept car coming following the most recent meeting of the Strategy Group in which it proposed a switch to a 1.9-litre V8 turbo engine.
Feature: A closer look at the Ferrari SF15-T
Click here for the full gallery of the first photos of the SF15-T
Keep up to date with all the F1 news via Facebook and Twitter