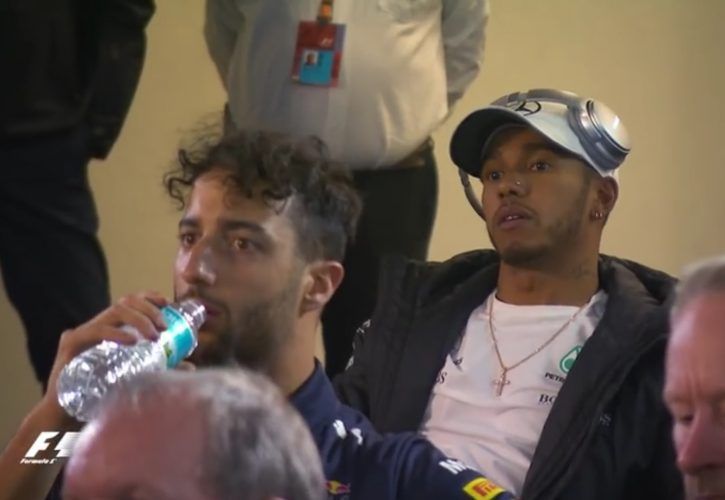 In last Friday's Mexican GP drivers' briefing, Lewis Hamilton took aim at arch rival Sebastian Vettel, but Charlie Whiting had the last word.
In the video of the meeting which was released by F1, Hamilton goes back to the previous weekend's US Grand Prix and to the moment he saw his five-second lead over Vettel reduced to ashes after his pit-stop.
The Mercedes driver contends that Vettel ran wide at Turn 19 when rejoining the race and gained a clear advantage. Hamilton then told Whiting his team had the GPS data to prove the Ferrari driver's infringement.
Hamilton: "I have a question. Just after my pitstop, Sebastian deliberately ran wide out of Turn 9 [Turn 19] and gained a lot of time on the GPS. But it had no penalty."
Whiting: "We didn't see that on the sector that I was just describing to Felipe [Massa]. We saw a 0.3s improvement in lap time, but obviously everyone saw it, it wasn't a secret."
Hamilton: "If you saw an improvement, that's an advantage, so..."
Whiting: "We saw a 0.3s improvement in his lap time."
Hamilton: "Which is an advantage, which is an improvement, so..."
Whiting: "It was an improvement in his lap time but he didn't gain a time in that corner where he went off. That's the point."
Hamilton: "Maybe we can send you the GPS because it's massively different. I think it's like 10k's[km/h] up all through that corner, knowingly."
Whiting: "If you look at the actual time it took to go through the light panel before turn 19 to the light panel before turn 20, it was the same. So he didn't gain anything there. That's what we were trying to use to judge those things."
While the FIA race director set the record straight, Vettel didn't intervene although a close-up reveals the German drivers' apparent annoyance at his rival's remark.
Gallery: The beautiful wives and girlfriends of F1 drivers
Keep up to date with all the F1 news via Facebook and Twitter