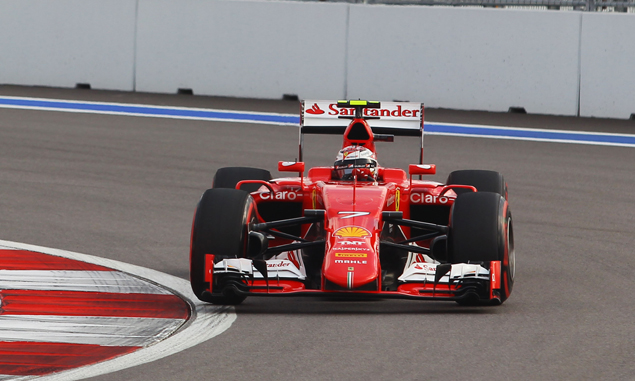 Kimi Raikkonen acknowledges Mercedes' dominant one-lap pace in qualifying, but the Ferrari driver says the story "might be different" during Sunday's Russian Grand Prix.
The championship leaders locked out the Sochi front row for the second consecutive time, while the Finn had to settle for fifth, right behind his team-mate Sebastian Vettel.
Despite finishing more than one second adrift of pole sitter Nico Rosberg, Raikkonen thinks this weekend's truncated running so far makes it hard to see how Ferrari really stacks up against their rivals.
"I don't know, I don't think anybody knows," replied the 2007 world champion when asked whether he could see himself challenging Mercedes.
"On one lap they are fast but in the race it might be different. We can only do our best and hopefully be up there fighting. It's a little bit of an unknown for everybody, so we'll try to do the right things and see where we end up.
"In the race, I expect to be OK but nobody has done any long runs so it's hard to know exactly what's going to happen."
Talking about his low-key showing on Saturday afternoon, Raikkonen admits that having three curtailed free practice sessions did not help, especially when it comes to extracting the most performance from Pirelli's soft and supersoft tyre compounds at Sochi.
"Obviously it has been a compromised weekend because of the weather and all the things that have happened. We had a plan [in FP3] but then there was a red flag, and you can't plan those. Not the ideal, but I don't think it made a massive difference in the end.
"The goal was to get the tyres working as we wanted but it was a bit difficult in qualifying, so it was a combination of weather, the circuit, it was just tricky because of that.
"The car feels OK when the tyre works. It just seems to take a bit longer and obviously there is not enough laps or time in the last phase of qualifying."
Rosberg beats Hamilton to Sochi pole
AS IT HAPPENED: Russian Grand Prix qualifying
Gallery: Carlos Sainz's crash in FP3
Keep up to date with all the F1 news via Facebook and Twitter