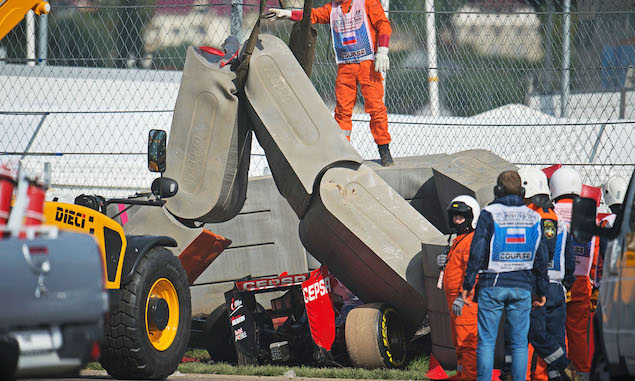 Carlos Sainz's crash during FP3 in Russia was "very scary" and the fact he was uninjured means F1 "dodged a bullet", according to Rob Smedley.
Having lost control in the braking zone for Turn 13, Sainz went head on into the Tecpro barrier which lifted up and came to rest on top of his Toro Rosso. As a result it took a while for Sainz to be removed from the car, but he was discharged from hospital on Saturday evening after scans. Williams' head of vehicle performance Smedley says the way the barrier ended up on top of the car was concerning due to the driver's head being exposed in F1.
"I haven't had a close look at it but it was very scary seeing all the Tecpro barriers sat on top of him," Smedley said. "As we know with all the tragic incidents that we've had over the last couple of years - either near-misses or fatalities - that it's the exposure of the driver's head which is the main thing that we need to work on.
"Obviously as the car slides under the Tecpro barriers then your first thought is I hope they haven't gone inside the safety cell. Thankfully they didn't, it looks like they did slide over; the safety cell worked as it should have done and they have gone and slid over the top of the car.
"So I think we definitely dodged a bullet there. The car shouldn't have gone under the barriers, absolutely not, that's not what is supposed to happen. So that is what was disconcerting - to say the least - to watch. The good thing is that he's alright."
Mercedes boss Toto Wolff agreed with Smedley, saying F1 should investigate whether there is a way of avoiding the Tecpro barrier from ending up on top of a driver.
"It was frightening to see at first because the was so deep into the barriers," Wolff said. "I just discussed it with Hermann Tilke and I think the barriers actually did function. It was a high-speed crash and on our GPS it was 140km/h on impact. He hopefully either has no injuries or minor injuries.
"We saw the same situation with Jordan King in the GP2 race and maybe we have to come up with a system where you have to cut the asphalt and put them deeper down to avoid the whole thing going up and covering the car, but I'm not an expert. If you compare them to what we had a couple of years ago it probably helped Carlos avoid injuries."
Rosberg beats Hamilton to Sochi pole
AS IT HAPPENED: Russian Grand Prix qualifying
Gallery: Carlos Sainz's crash in FP3
Keep up to date with all the F1 news via Facebook and Twitter