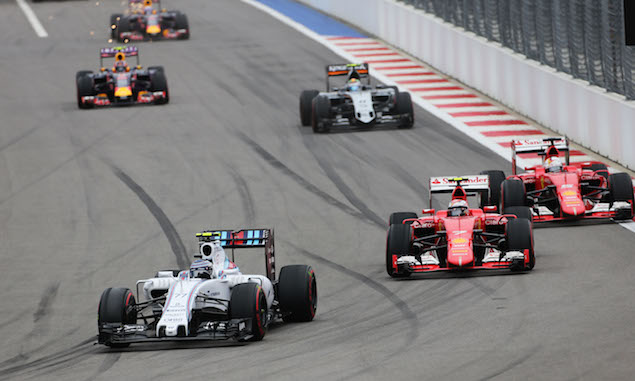 Valtteri Bottas strongly criticised Kimi Raikkonen for the final lap collision which took the Williams driver out of third place in the Russian Grand Prix.
Both Bottas and Raikkonen had passed Sergio Perez at the end of the penultimate lap, and Raikkonen used DRS to close on Bottas in to Turn 2 before staying with the Williams through Turn 3. From a long way back, Raikkonen attempted to pass down the inside but hit the right rear of Bottas' car, sending him in to the barriers.
With Raikkonen eventually handed a 30-second time penalty for the collision, Bottas felt it was a reckless move at such a late stage in the race.
"I don't think it was a racing incident," Bottas said. "I didn't see anyone there and I was in front, quite clearly ahead and taking my line and then suddenly at the apex I felt someone hit me, so I don't really get the point to do moves like that in the last lap."
While speaking before Raikkonen was penalised for the incident, Bottas says any punishment does not help his own situation having retired.
"It doesn't matter really. I'm never getting those points back ... One thing for sure I know I was not at fault, so I am happy about that, but it doesn't really help.
"I'm certainly not blaming myself, as I was clearly in front and taking my line. When someone hits you from behind it's quite obvious it's the car that's behind that is at fault."
Hamilton close to title after Russian GP win
AS IT HAPPENED: Russian Grand Prix
Click here for the F1 drivers' girlfriends gallery
Keep up to date with all the F1 news via Facebook and Twitter