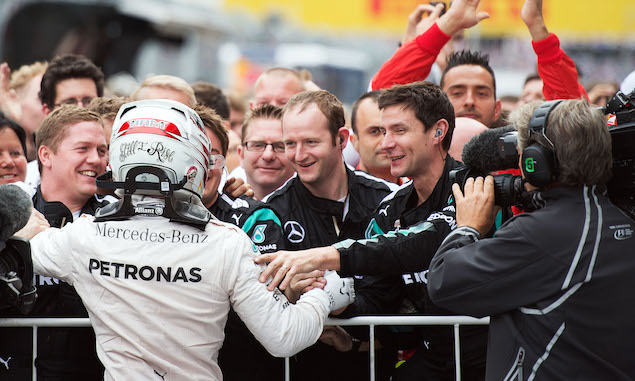 Mercedes has won the 2015 constructors' championship after Kimi Raikkonen was penalised following the Russian Grand Prix.
Coming in to the race weekend at Sochi, Mercedes needed just three more points than Ferrari in order to secure back-to-back constructors' titles following another dominant season. However, Nico Rosberg's early retirement appeared to have delayed the celebrations with both Ferraris in the top five.
With Lewis Hamilton winning, Mercedes picked up 25 points while Sebastian Vettel scored 18 by finishing second. Raikkonen was fighting for third place when he made contact with Valtteri Bottas on the final lap, taking the Williams out of the race while Raikkonen limped home in fifth place.
Having originally outscored Mercedes by three points, the Ferrari total was reduced as a result of a 30-second time penalty for Raikkonen for causing a collision, which dropped him to eighth in the final standings. With Ferrari scoring 22 points in total, it gives Mercedes the championship with four races still to go.
Raikkonen's penalty was actually a ten second stop and go which was imposed after the race and converted in to a time penalty, while he also received three penalty points for the incident with Bottas.
Hamilton close to title after Russian GP win
AS IT HAPPENED: Russian Grand Prix
Click here for the F1 drivers' girlfriends gallery
Keep up to date with all the F1 news via Facebook and Twitter