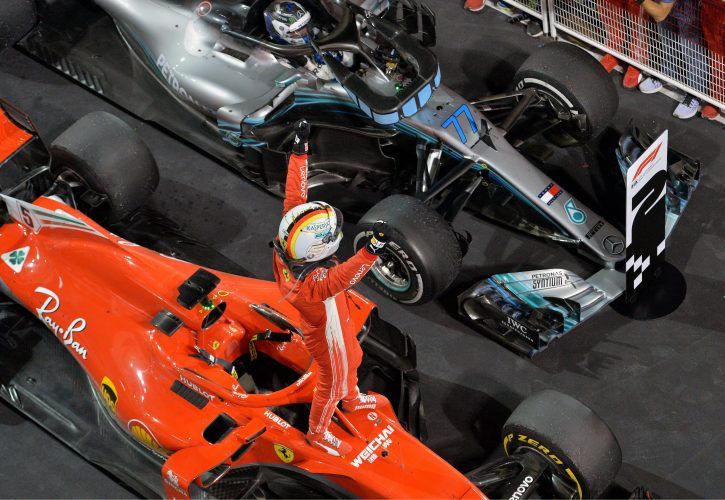 Ferrari chairman Sergio Marchionne praised the Scuderia for its win in Bahrain, noting the team's strength but insisting on the long road that remains ahead in 2018.
Sebastian Vettel conquered his 49th win as he put his 200th Grand Prix under his belt.
But the Italian outfit's victorious day was also a troubled one as an unsafe pitstop release of Kimi Raikkonen - the second of the weekend - unfortunately injured a Ferrari mechanic who was left with a broken leg while the Finn retired on the spot after the mishap.
"First and foremost, I wish our mechanic a speedy recovery and hope to see him back on track soon," said Marchionne Sunday evening.
"The team performed consistently all weekend and we were front runners right from the start of practice.
"It was a difficult race and Sebastian drove like a true champion. I am sorry for Kimi who could certainly have finished on the podium.
"This Grand Prix confirms that the Scuderia has a great car, a solid team and two drivers on top form. But it also showed how close things are between us and our rivals, who are very strong.
"That's why, at the risk of repeating myself, it's worth pointing out that there is still a long way to go and we have to maintain a high level of concentration, continuing to work diligently and with passion, which is something we are well capable of.
"It's the only way we can give our fans other equally satisfying Sundays."
Scuderia boss Maurizio Arrivabene also praised Vettel and the team, and elected to send a colleague of the injured Ferrari mechanic to the podium to collect the Constructors' trophy.
"Today's result, with a win for Sebastian, is confirmation of the great job done by the team, of an effective car and of a driver who drove like a true champion right to the very end.
"It was a shame for Kimi, who would have completed a fine result for the team.
"We chose to take one of our mechanics up onto the podium as a mark of respect to our colleague Francesco who was injured during the pit stop.
"The whole team hopes he recovers quickly. We are already preparing for the next race in China and as usual we will give it our all."
Gallery: The beautiful wives and girlfriends of F1 drivers
Keep up to date with all the F1 news via Facebook and Twitter