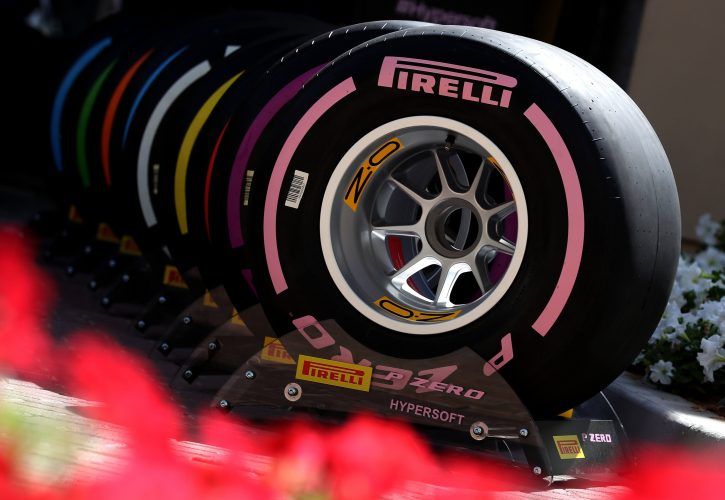 Pirelli's new pink-walled hypersoft tyres made their racing début in the last race in Monaco, and make a quick return this weekend in Montreal.
But whether the compound will return for further outings in 2018 may depend on how things go at the Circuit Gilles Villeneuve.
"It is important for us to understand the behaviour of the hypersoft in Canada," Pirelli F1 boss Mario Isola told Autosport magazine this week.
"That will drive the choice for some other races later in the season," he added.
This year Pirelli has created a line-up of seven different compounds from which it chooses three to offer drivers at each race. This weekend it's supersofts and ultrasofts alongside the hypers, the same as Monaco.
The hypersoft tyres were first trialled in post-season testing at Abu Dhabi last year. They were in action again in pre-season testing at Barcelona. But last month's Monaco Grand Prix was their first actual race appearance.
"Now we have knowledge of the hypersoft in a circuit that's not Abu Dhabi or Barcelona," agreed Isola. "But Monte Carlo is quite a difficult circuit. It's not so wrong to take conclusions, but we need to collect more information."
Isola said that there had been no surprises in the compound's performance in Monaco.
"The graining was not unexpected, especially with a bit cooler temperature," he said. "On a high fuel load the hypersoft was prone to graining
However, he added that there was a limit to what could be learned from such an unusual circuit. He said that the greater traction this weekend will give Pirelli a better idea of how rear degradation is compared with front tyre wear.
"In Montreal we will have more data, and that will be very important to understand where we can use the hypersoft.
"The hypersoft was designed for street circuits," he continued. "It is quite extreme, you can see from the level of grip and the lap time.
"The step in grip of the hypersoft is quite high. The drivers feel the step in grip, and obviously they also feel the step in degradation.
Monaco race winner Daniel Ricciardo has already given an enthusiastic thumbs up to the new pink tyres.
"I don't know why we can't have the hypersoft at every race," he said last month. "Or at least we qualify on it and maybe figure it out after that.
"Just trying to create more options, more surprises," he added. "It's a bit predictable for now."
Gallery: The beautiful wives and girlfriends of F1 drivers
Keep up to date with all the F1 news via Facebook and Twitter