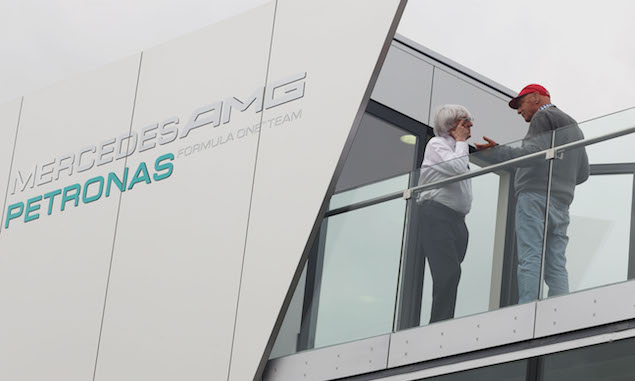 Niki Lauda says Mercedes is "catching up a bit" with Ferrari and Red Bull in terms of the money it earns from Bernie Ecclestone thanks to its championship victories.
Mercedes secured a second dominant constructors' championship at the Russian Grand Prix earlier this month, before Lewis Hamilton took his third drivers' title in Austin last weekend. Each F1 team has individual commercial agreements with Ecclestone, with Ferrari earning the most of any team due to both its success and its historical standing within the sport.
While Mercedes only received the third-highest amount of money from Ecclestone last season, Lauda says the figure is slowly increasing with each title the team wins.
"What I can tell you is that when we joined the group with Ferrari, Red Bull, McLaren I was part of these discussions," Lauda said. "We entered this agreement with Bernie which was a difficult one because we were earning the least on the money and we were the last to come in, but each championship gives us a little more, so we are happy we are catching up a bit because at the beginning we were very low."
Earlier in October, Force India and Sauber lodged a complaint with the European Commission regarding what it believes to be the unfair distribution of funds within F1.
Technical analysis: United States
Click here for the F1 drivers' girlfriends gallery
Keep up to date with all the F1 news via Facebook and Twitter