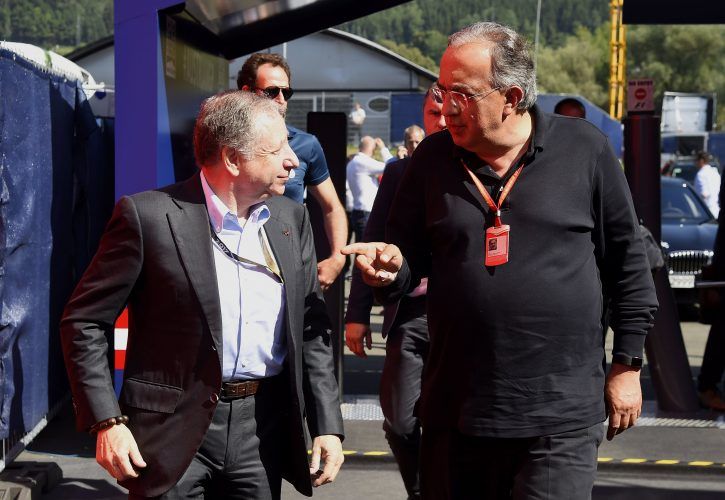 While expected, the heartbreaking news of Sergio Marchionne's passing still sent a shock wave through Formula 1's tight-knit community, generating in its aftermath a steady flow of tributes to the ex-Ferrari boss' legacy and achievements.
The 66-year-old Fiat Chrysler and Ferrari boss died on Wednesday from complications resulting from a shoulder surgery he underwent last week in Zurich.
First in line to pay homage to the ex-Ferrari boss' legacy, Formula 1 CEO Chase Carey described Marchionne as "both a leader and a friend."
"We are deeply saddened by the passing of Sergio Marchionne," he added. "He was a great leader of not just Formula 1 and the automobile world, but the business world overall.
"He led with great passion, energy and insight, and inspired all around him. His contributions to Formula 1 are immeasurable.
"He was also a true friend to all of us and he will be deeply missed. At this difficult time we extend our deepest sympathies to his family, friends and colleagues."
FIA President Jean Todt naturally followed suit, underscoring Marchionne's character and outstanding automotive accomplishments:
"It is with great sadness that I learned that Sergio Marchionne tragically and unexpectedly passed away," said the Frenchman.
"Sergio achieved a colossal amount for the automotive industry and motor sport worldwide. He dedicated himself fully to turn around the FIAT-Chrysler group and put all his energy to bring Scuderia Ferrari back to the top.
"He was an endearing, upstanding and brave man, an unconventional and visionary leader. He was an eminent member of the FIA F1 Strategy Group and of the FIA High-Level Panel for Road Safety. His death is a considerable loss.
"On behalf of the entire FIA community, all my thoughts go out to his family, his friends and his Ferrari and Fiat-Chrysler group teams."
A ally as well as an inevitable foe, Mercedes boss Toto Wolff, in the name of the manufacturer, took to Twitter to praise Marchionne's work.
"This is a sad day for all of us in @F1. We have a lost a huge supporter of our sport, a fierce competitor, an ally and a friend," Wolff wrote on Twitter.
"Our heartfelt sympathies are with Sergio's family and all at @ScuderiaFerrari at this difficult time."
McLaren also expressed its condolences on Twitter:
All at McLaren are saddened to hear that Sergio Marchionne has passed away. Our respects and condolences to his family and the whole @ScuderiaFerrari team. pic.twitter.com/dpBo3SxHlx

— McLaren (@McLarenF1) July 25, 2018
Red Bull Racing, Ferrari's front-running rival along with Mercedes, sent its condolences to the Marchionne family:
"Condolences to the family and friends of Sergio Marchionne. A great competitor on and off track @scuderiaferrari. Riposi in pace."
Red Bull's junior outfit also paid tribute to the former Ferrari chief:
"A sad day for Motorsport. All of us at Scuderia Toro Rosso are saddened to learn of Sergio Marchionne's death. Our deepest condolences to his family, friends, and the @ScuderiaFerrari team."
Renault and Haas joined their fellow F1 teams, expressing their condolences on Twitter:
"Our deepest condolences go to Sergio Marchionne's family, friends and to @ScuderiaFerrari on this sad day. May you rest in peace Sergio," wrote Renault.
Our hearts go out to the family, friends and colleagues of Sergio Marchionne. He blended his business acumen with his passion for motorsports and Formula 1 is better for it. pic.twitter.com/lZmOnJKUdo

— Haas F1 Team (@HaasF1Team) July 25, 2018
On Instagram, former Scuderia driver Felipe Massa posted a picture of himself with Sergio Marchionne.
"What a sad day !! We lost a leader in Motorsport and in the Sport #SergioMarchionne all my thoughts are with his family. Rip 🙏🏻"
And of course, the House of Maranello and the Scuderia paid a heartfelt homage to the man that had led the iconic Cavallino Rampante since 2014.
"All of us at Ferrari feel privileged to have worked alongside a courageous leader like Sergio Marchionne, a man of enormous humanity and intelligence. In this moment of sadness, we join with his family in remembering him with immense affection," said Ferrari.
The tributes to the remarkable Sergio Marchionne from friends, colleagues and competitors will likely continue to pour in today as everyone remembers an inspiring and tireless leader, and a man who during his career powerfully engaged at many levels, took smart risks, and was repeatedly willing to challenge orthodoxy.
Gallery: The beautiful wives and girlfriends of F1 drivers
Keep up to date with all the F1 news via Facebook and Twitter