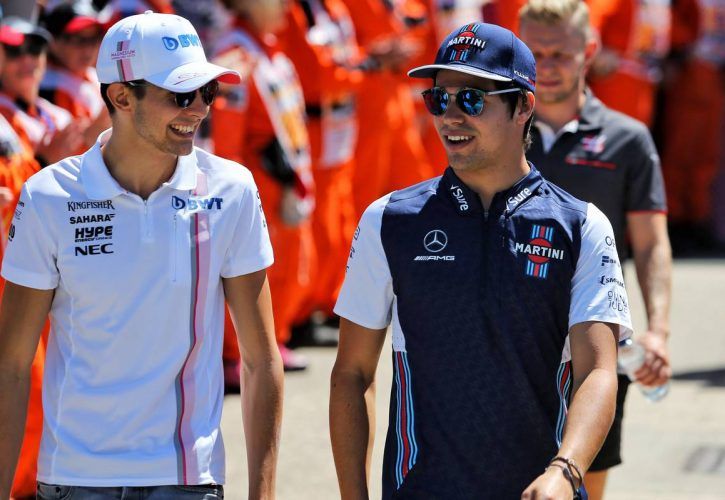 Williams' Lance Stroll admits his potential move to Force India to the detriment of Esteban Ocon would perhaps reflect poorly on F1, but the Canadian won't feel sorry if it happens.
Force India's recent take-over by a consortium led by the driver's father, Lawrence Stroll, implies the 19-year-old's likely transfer to the Silverstone-based outfit sooner rather than later.
The prospect of Stroll - a young man lavishly bankrolled to F1 by his billionaire father - sidelining the talented Ocon has revived the age-old debate about money prevailing over merit in the F1 paddock.
It undoubtedly paints a somewhat deplorable picture of the sport at a time when its owners - Liberty Media - are sparing no effort to restore its former luster.
Last weekend, Lewis Hamilton chimed in on the debate, expressing his disappointment with Force India's state of affairs and the resulting probable outcome that could leave one highly-rated driver out in the cold.
"The best drivers need to be in the best cars," said the current leader of the world championship. "You can't let somebody who has got more money leapfrog a better driver. It shouldn't happen."
In Spa last weekend, where events continued to unfold behind the scenes, Stroll himself didn't deny the poor optics for F1 of a raw deal eventually being forced upon Ocon, although his main focus was on convincing everyone that his own efforts were not without merit.
"I'm not arguing that point, but my results and what I've done in the past should have been acknowledged a little bit more," said the Williams driver in an exclusive interview with The Telegraph.
"It's very harsh. Sometimes a footballer has more ability, potentially, than another.
"It just happens to be that one gets thrown in a shitty club, and another with less ability gets a great pay cheque at a better club. I'm not disagreeing that the system isn't entirely fair all the time.
"But I deserve more than just mention of the money that's behind me. And it's not entirely my father."
Indeed, Stroll's involvement with Williams has yielded the backing of a selection of major Canadian corporations
"Aside from him, I bring in partnerships with JCB, Canada Life, Bombardier. So, I think there's a separation between my father and I, to a certain extent."
Still, where Stroll sees merit, regardless of where he ends up racing in the short-term, others point to an obvious case of nepotism, and that will be a hard perception to shake off regardless of Lance's talent which appears to be genuine as a series of spirited drives demonstrated last year.
"Potentially, my father buying this team can make it a much better team, much more competitive. It's not, in my eyes, a big negative," he added.
"From Esteban's point of view, it's triggered towards me, because my father's involved in Force India. Drivers from certain backgrounds will have their view on how things should be. Drivers with financial backing will think otherwise.
"If he takes me to Force India, that's his choice, and I understand that for Esteban, that might not be great or fair.
"But I think that I deserve to be recognised more for the results I've achieved. I wanted to get that off my chest."
We agree Lance.
Gallery: The beautiful wives and girlfriends of F1 drivers
Keep up to date with all the F1 news via Facebook and Twitter