This weekend's Abu Dhabi Grand Prix is supposed to be the final Formula 1 outing for two time world champion Fernando Alonso. But he's been teasing the possibility that he isn't gone for good - or even for very long.
"I needed a break and I need to find something else to do," he told reporters on Saturday. "But I'm open after that maybe I do another F1 season, or somewhere else."
The 37-year-old was sounding particularly upbeat after getting through to the second round of qualifying for his final race with McLaren. He'll start from 15th place on the grid tomorrow, rather against expectations given the team's recent dismal performance.
"We weren't optimistic at all about our chances of making it into Q2, as we haven't been too competitive in any of the sessions so far this weekend.
"We somehow managed to go to Q2 and that's good," he said. "We made it out of Q1, which was a surprise and not in our plans.
"I was pushing quite hard on that qualifying lap," he added. "We knew that Q1 would be difficult so we decided to use three sets of tyres to try and it worked out.
"The lap was good and I'm happy to have driven on the limit again to round out a perfect year in terms of qualifying.
"My priorities are to finish the race and to see the chequered flag. If we can be in the points, that will be in the dream," he said. "On pure pace we're maybe not in the top ten, but who knows tomorrow?
"To be in the points we'll need help from the people in front of us," he admitted. "We are five positions away so let's see if there is some action in front of us in the first couple of corners.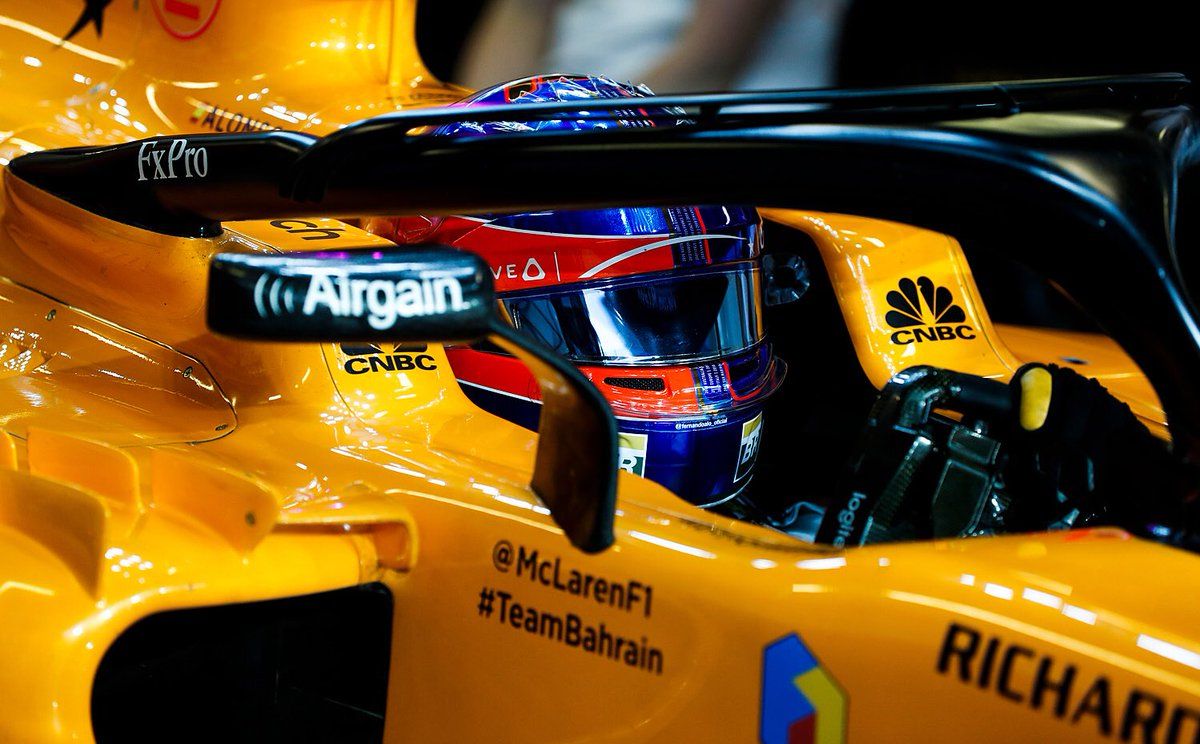 "In terms of performance we are not fast enough. But things can always happen here, so we'll try to stay away from the incidents and take advantage of it."
Alonso will be driving his final race for the team in a special livery based on his iconic helmet colours. He admitted that he was feeling a little embarrassed by all the attention he'd been getting, which included a visit to pit lane from the former King of Spain.
"Outside the car there's a lot of things happening this weekend: a lot of emotions and a lot of nice touches here and there.
"All these tributes are a bit embarrassing for me," he confessed. "I'm shier than people think and I want it go by quickly!
"Tomorrow when I put the helmet on and jump in the car I'll treat it like the last one, and I'll try to enjoy it and do my best.
It's also the last race in F1 for his current team mate Stoffel Vandoorne, who switches to the ABB FIA Formula E championship with HWA, starting with the Ad Diriyah ePrix next month.
The Belgian driver has had a pretty terrible time of it in F1 this season, and has been whitewashed in qualifying by Alonso in all 21 races of 2018.
"Quite relieved to be honest, we've not been in really good shape all season long," he said when asked what his feelings were after his final qualifying session.
"I had a lot of fun, and that's what matters," he continued. "This car is still nice to drive even though when you look at the classification it's difficult to enjoy.
"I think tomorrow, one final race to go and I'm just going to the try and make the most of it," he added. "Tomorrow we have one more race to go, which I'm just going to enjoy as much as I can.
"On the other side, I'm looking forward to seeing the chequered flag and to start a new chapter."
"It's sad to leave so many people I've been working very closely with," he admitted. "But on the other side I'm quite excited for the future.
"To start working in a new environment, a new team, new people as well – it'll be something completely different but I'm looking forward to it.
Gallery: The beautiful wives and girlfriends of F1 drivers
Keep up to date with all the F1 news via Facebook and Twitter