Toto Wolff says Mercedes will need to accept that Ferrari and Alfa Romeo may have done a better job interpreting the rules that have governed the design of their car's front wing.
Formula 1's 2019 rules were defined for the purpose of promoting overtaking and improving racing, thanks in part to a wider, simpler front wing.
However, design variations - destined to preserve a car's outwash which the simpler wing is intended to reduce - have emerged among the teams.
Mercedes and Red Bull, like the bulk of the field, have elected to stick with a relatively conventional approach to front-wing design, but creative minds at Ferrari and Alfa Romeo - and to a lesser extent at Toro Rosso - have opted for flaps that run and droop down towards the wings end plate.
In light of last week's performance by Ferrari and given the handling issues Lewis Hamilton and Valtteri Bottas have so far experienced with their W10, the SilverArrows' squad's engineers have obviously taken note of their rivals' clever designs.
"You need to be open minded," said Wolff.
"We have always had a different design philosophy to many of the other teams.
"We have gone longer [wheelbase] than the other teams. We have never had rake in the car compared to some of the other teams.
"It is not because we believed our concept was superior in every angle, but we believe that the whole car/power unit package was the best for us that way.
"Having said that, with new regulatory change, you need to be open minded about what the others have done.
"And if something functions better, every team at the moment will look at what the others have put on the car and try it themselves."
However, Wolff dismissed the possibility of Mercedes changing its stance and adopting early on an alternate front-wing design similar to those introduced by Ferrari and Alfa Romeo.
"These are things you don't do from one day to another," he added.
"If you were to think to change the aerodynamic concept of the car, it is not a matter of days or weeks. It is a matter of months."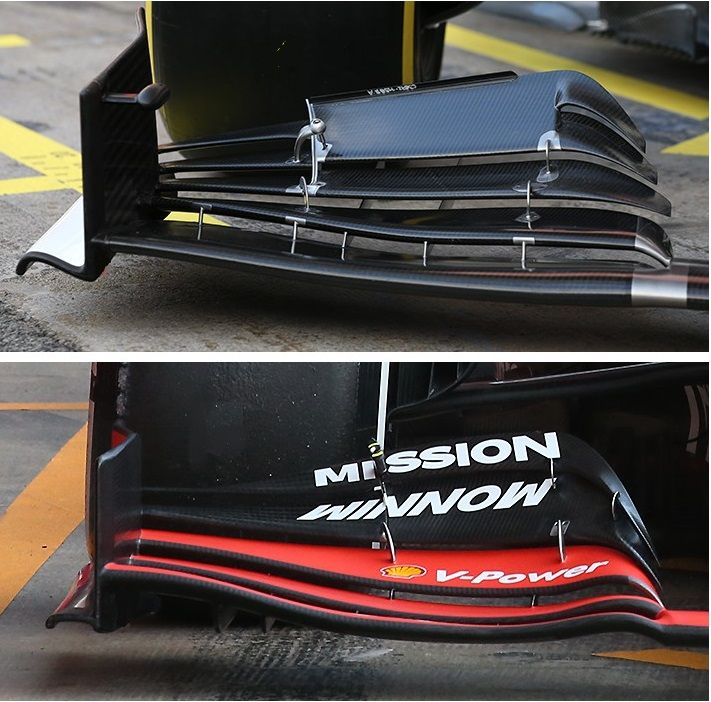 Racing Point technical director Andy Green is also keeping a keen eye on the front-wing intrigue, believing that while divergent, the two design approaches could both work.
"Teams like Mercedes have done their own philosophy for quite a long time," said Green.
"They've stood out as being different and they've won five championships. So there's always room for another philosophy, and they've proved that over the years.
"We may end up with several, one or two different philosophies around the front wing and both of them could be equally as competitive. We'll have to wait and see."
Gallery: The beautiful wives and girlfriends of F1 drivers
Keep up to date with all the F1 news via Facebook and Twitter