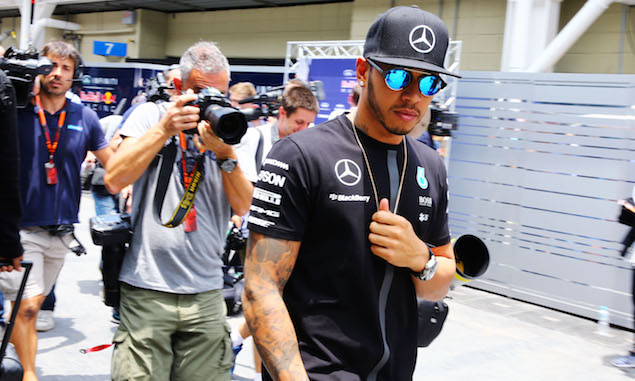 Lewis Hamilton says heavy partying following his third world championship led to him becoming exhausted and crashing in to three cars in Monaco.
The Mercedes driver crashed his Pagani Zonda in to three stationary vehicles in Monte Carlo in the early hours of Tuesday morning, taking to social media on Wednesday night to inform his followers of the incident. Having previously explained a recent fever was caused by numerous days of work surrounding the Mexican Grand Prix, Hamilton now says the accident and his illness were due to celebrations since his title win.
"It was a result of heavy partying and not much rest for a week and a half," Hamilton told the Telegraph. "I am a bit run down. I have been non-stop and trying to fit training in at the same time and not getting a lot of sleep."
And Hamilton says the stress of arranging a surprise 60th birthday party for his mother also had an impact on his lack of energy in recent days.
"The party was amazing, couldn't have gone better. I don't feel as bad as I look. The last two days I have slept pretty much all day. I couldn't believe how much I slept and I slept on the flight here.
"I was nervous that I was not going to sleep. I slept all day [Wednesday]. I usually sleep four or five hours but when you are training you need more than that. I am generally a really energetic person but that week after Mexico and the party we drank a lot and I was really feeling it.
"Then I had a photo shoot at Madame Tussauds the next day and I wondered why I booked it for the next day because I had to do pictures looking fresh. It was not enjoyable because it was only a few hours after the night out so I was still very much…"
Hamilton's accident in Monaco occurred just before 3:30am on Tuesday morning, with police confirming nobody was hurt and saying Hamilton had not been drinking.
Click here for Eric Silbermann's Brazilian grumpy preview
Click here for Chris Medland's Brazilian Grand Prix preview
Use the red tabs on either side of the screen to scroll through more Formula One news and features
Click here for the F1 drivers' girlfriends gallery
Keep up to date with all the F1 news via Facebook and Twitter