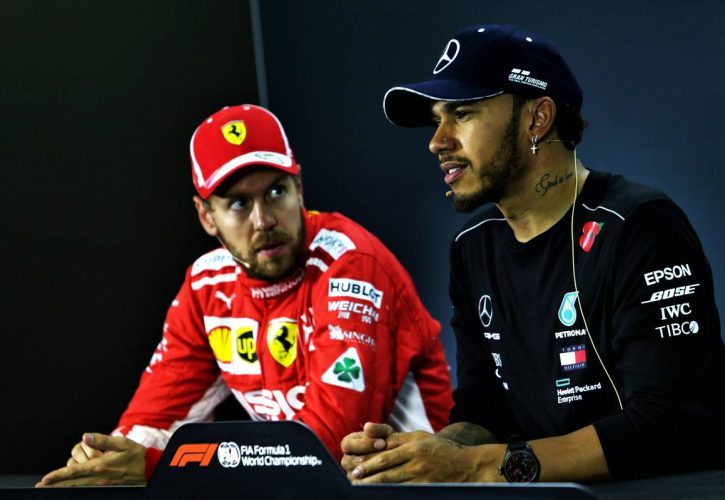 Former F1 supremo Bernie Ecclestone says Sebastian Vettel stumbles once too often when racing wheel-to-wheel with Lewis Hamilton, claiming the Mercedes driver is like a "mental block" for the German.
As arch-rivals fighting for the title, Hamilton and Vettel often found themselves at loggerheads on the track last season.
The Ferrari driver knocked himself out of contention at Monza last year when he spun while trying to resist the reigning world champion.
And Vettel did it again in Bahrain when he spun while trying to hang on to the back of Hamilton's Silver Arrow.
The 31-year-old was lambasted by the Italian media after a race in which he had also been outpaced by Scuderia new recruit Charles Leclerc, but Ecclestone is confident Vettel will fight back.
"Formula 1 needs a Sebastian who wins," Ecclestone told Sport Bild.
"People underestimate him. He will find a way out of the low he's in.
"I've thought a lot about it, because I really like Sebastian and he is my friend. He often makes silly mistakes when he's fighting Lewis. It's like a mental block for him.
"Sebastian really respects Lewis and wants to do better than him. In Bahrain, he could have overtaken him later because his car was faster."
Another man who has backed Vettel to bounce back is 2016 world champion Nico Rosberg who reckons that all his countryman needs to move forward is one good result.
"It is just a phase Sebastian is going through," said the German ahead of this weekend's Chinese Grand Prix.
"It is one that all sportspersons have to deal with - where things don't always go to plan.
"He needs to get into a positive spiral again and all it takes in Formula 1 is one good race, so if he wins in China, then off he'll go."
Gallery: The beautiful wives and girlfriends of F1 drivers
Keep up to date with all the F1 news via Facebook and Twitter