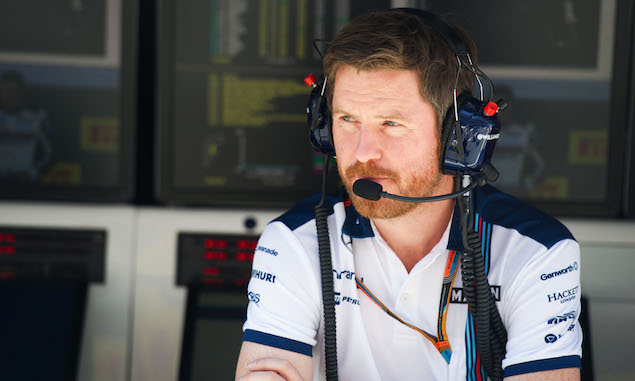 Rob Smedley says Williams disagrees with the FIA reading taken on the grid which led to Felipe Massa's exclusion from the Brazilian Grand Prix.
Massa's right rear tyre was found to have a tread temperature 27C above the maximum allowed from Pirelli, leading to him being excluded following the race. With Williams saying it will appeal the decision, Smedley says the team's own readings showed nothing like the temperature found by the FIA.
"If you read the document, the right rear tyre of car 19, Massa, on the FIA infrared gun read 137C," Smedley said. "We have two independent sensors, the first one is the PT1000 which sits inside the tyre blanket and tells us what the surface temperature is and that one was always in compliance with the regulations. The last time we could read it, when they took the set off to the grid, it was about 104C.
"The next independent measure we have is from the car data. This is a completely independent measure. The right rear tyre of Massa's car was 105.7C on the Texas infrared temp sensor. So we have two independent sensors which both say we were in compliance with the regulations. We have data to back that up.
"In addition, we have had independent correlation from our blanket temperature sensors and car temperature sensors to the FIA guns, which Pirelli did for us after all the fuss with Mercedes in Italy. In addition to that, we have also bought exactly the same sensor that the FIA uses and we do random checks throughout the weekend to make sure this does not happen.
"For us it's quite critical for us that we understand where his problem is. We have three independent temperature measures and none of them give anything like the measure the FIA took on the grid."
And Smedley says the fact that the pressure of the tyre was 0.1psi above the minimum starting pressure also points to the FIA getting an anomalous reading.
"If it was 27C higher, we would see that. You're probably talking around two and a half to three PSI higher. The bleed the engineer did on the grid was entirely normal.
"I think what happens is we bleed down to the minimum, thats another part of prescritpion we comply with entirely. [Massa] wouldn't have felt something but what the engineer would have seen was that we were bleeding out an awful lot more pressure than we have been for the rest of the weekend.
"That would have been an anonomoulous amount of pressure - 3PSI more than what he is normally bleeding out to get down to the Pirelli minimum. That would have been flagged at some point and nothing has."
And Smedley was left unhappy with the FIA's reasons for imposing the penalty, despite the evidence he had taken with him to the stewards.