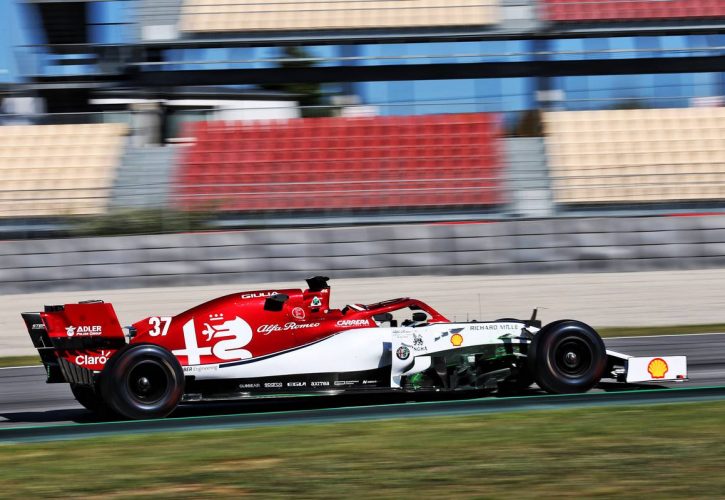 Callum Ilott will surely remember his first F1 test, albeit for the wrong reasons after the Ferrari junior's day came to a premature end when he crashed heavily his Alfa Romeo in Barcelona.
Up until the mishap which occurred on Tuesday afternoon, Ilott had acquitted himself well, running consistently and with a good level of performance over the course of 40 laps.
It would all go suddenly wrong however for the 20-year-old as he entered the Circuit de Catalunya's fast Turn 3 right-hander.
"I'd done the first part of Turn 3 and the, out of nowhere, there was just a big snap – no previous movement, just gone – that's why it's a bit unexplained," said Ilott;
"There's no difference in wind, something hasn't broken that we've seen and in terms of driving it looks very similar, so it's a bit strange.
"I was completely caught off guard because it was exactly the same as all the other laps, so we're still looking at it. It was a weird one."
The Sauber Junior Team F2 racer was fortunate to escape his impact with the barriers uninjured, save for a bruised morale.
"I'm absolutely gutted for me and Alfa Romeo Racing and of course I feel I've let the team down," he added.
"Up until the crash things were going pretty well and I was enjoying myself delivering the program as planned.
"The difference between an F2 car and an F1 car is unbelievable when it comes to speed and grip level.
"Right from the start I felt quite comfortable and could steadily improve the performance, but then I lost it in turn 3 – not exactly the way I imagined my first day in an F1 car to end.
"Still a great learning experience for me and I'm very grateful to Alfa Romeo Racing for having been given this opportunity."
Gallery: The beautiful wives and girlfriends of F1 drivers
Keep up to date with all the F1 news via Facebook and Twitter