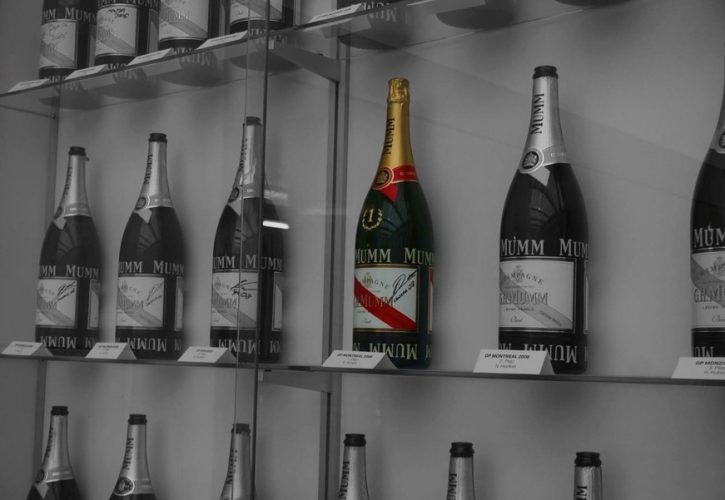 Ahead of this weekend's Canadian Grand Prix, Alfa Romeo Racing has revealed the true story behind a special champagne bottle that sits in its trophy room at Hinwil, the historic home of Sauber, the team's operator.
At first glance, the only detail that separates this prestigious magnum of bubbly from its nearby neighbors is that it remains uncorked, a very unusual trait for a bottle donated atop an F1 podium, let alone one given to 2008 Canadian Grand Prix winner, Sauber-BMW's Robert Kubica.
Along with the memorable artifact comes a story recounted over the years by Sauber personnel to newcomers who upon their first visit to Hinwil learn that the bottle is uncorked because an overjoyed Kubica simply forgot in the spur of the moment to carry out the traditionally festive 'shake and spray'.
Over twenty years on however, Alfa Romeo has come clean on the tale of the uncorked bottle.
"It's a great Sauber story, one that shows the human side of Formula 1," said the team in its Canadian Grand Prix preview.
"It's a story new starters are told on their first days in the factory. It's also not true.
"In the aftermath of that win, a benign row, but a row nonetheless, emerged over the ownership of those spoils of victory.
"Sauber and BMW both wanted to keep the memento, the vessel of the sweetest champagne we had ever tasted.
"We pleaded and begged but alas, on the occasion, it was the German giant that won "The Battle of the Bottle": the original - uncorked as Robert did indeed spray the bubbly that memorable day -  is proudly displayed in their Munich museum to this day. Formula One produced a replica and that went to Switzerland.
"On the day, we chose to relinquish this precious memory to our partners. That's what we did, with magnanimity and style. To go on building more great memories in the future.
"The trophy, that one we kept. From then on, we called it 'the one we didn't even give them a sniff of'."
As urban legends go in F1, this one has lived and died in honor. To this day, the 2008 Canadian Grand Prix remains Hinwil's - and Kubica's - single claim to fame in F1.
Gallery: The beautiful wives and girlfriends of F1 drivers
Keep up to date with all the F1 news via Facebook and Twitter