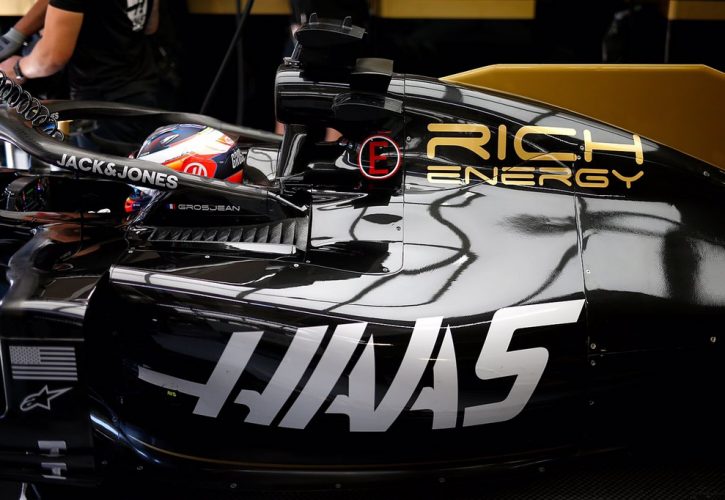 Haas sponsor Rich Energy has been hit with several UK court orders, one of which compels the energy drink company to provide clarity on its financial situation and its dealings with the US outfit.
Rich Energy was brought to court by British bicycle company Whyte Bikes for a copyright infringement involving its stag logo which appeared as almost an exact copy of the cycling company's emblem.
A ruling by the Intellectual Property Enterprise Court, which declared Rich Energy's stag logo as invalid, forbids the company from using its logo in the United Kingdom after July 18.
However, digging deeper into last Thursday's judgment - and thanks to FormulaSpy's Thomas Maher for doing the groundwork on this - reveals the full extent of Rich Energy's liabilities, some of which should entail some interesting information.
For starters, Rich Energy's request for permission to appeal its case was refused, although they can directly ask the Court of Appeal for permission to appeal, and this must be done by July 18.
Furthermore, Rich Energy has been ordered to pay costs of £35,416 to Whyte Bikes within 14 days.
Damages for copyright infringement must be agreed by the two parties or they shall be assessed by a court at a later date.
Moving on, the company must also deliver to Whyte Bikes all its infringing products or choose to destroy the products or "render them non-infringing" by 1 August 2019.
But wait, there's more! Rich Energy must disclose to Whyte Bikes the total UK and global sales of cans of its product bearing the stag logo and the total sums received from the sales.
The disclosed numbers will either validate the claims of Rick Energy CEO William Storey who insists his company's sales skyrocketing, or they will blow his allegations into oblivion.
Finally, in relation to Whyte Bikes' ability to assess the damages linked to the copyright infringement, Rich Energy must divulge to Whyte the following:
"Any sums of money invested by third parties in any other company or entity controlled by the Second Defendant in connection with and/or pursuant to the First Defendant's sponsorship of the Haas F1 Team;
"Full details of any sums of money paid or payable to the Haas F1 Team pursuant to the First Defendant's sponsorship of the Haas F1 Team, indicating in each case whether such sums were paid or payable by the First Defendant or by any other entity."
In short, Whyte Bikes will learn how much Rich Energy paid for its Haas sponsorship and who paid the team.
Gallery: The beautiful wives and girlfriends of F1 drivers
Keep up to date with all the F1 news via Facebook and Twitter