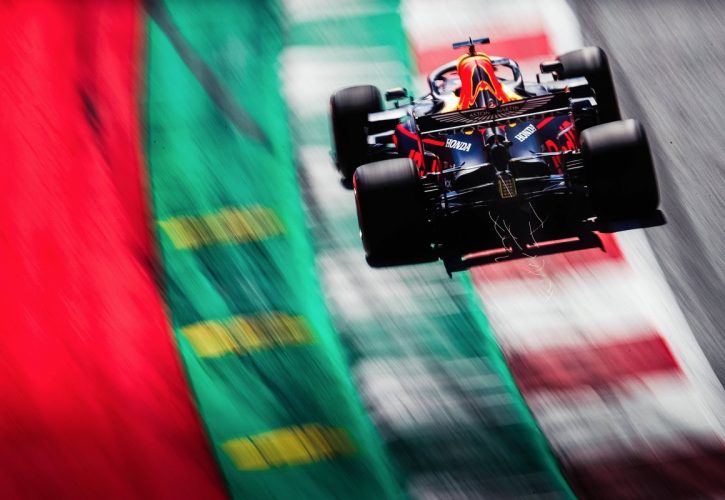 Honda deservedly celebrated in Austria its return to the winner's circle for the first time since 2006, but the Japanese manufacturer admitted that conditions in Spielberg were marginal.
Red Bull and Max Verstappen successfully broke on Sunday Mercedes' 100 per cent win record in 2019, but Honda accomplished the rare feat of beating the German manufacturer at its own dominant game: engine use.
The Red Bull Ring was sizzling in scorching temperatures last weekend, the heat wave forcing Mercedes to turn down the power of their engines, with Valtteri Bottas and Lewis Hamilton ordered to lift-and-coast for the majority of the 71-lap race.
While Red Bull-Honda had the upper hand over its rival, but conditions also warranted a bit of de-tuning in the Japanese camp, as Honda F1 boss Toyoharu Tanabe explained.
"We were on the edge in terms of cooling," he said.
"Of course, the high temperatures forced us to save the power unit. We tried to extract as much power as we could.
"I did not [expect to be competitive] like this, be so strong. From the previous races we could see a very strong Mercedes but sometimes we could compete with Ferrari. Differently, we showed the strongest performance against them, so I'm a bit surprised."
After enduring such a long dry spell in F1 since its return to Grand Prix racing in 2015 with McLaren, Honda's win was a milestone victory.
But Tanabe insisted the manufacturer had by no means bridged the gap to Mercedes and Ferrari.
"Of course, this result encourages the members of our development team, but from the beginning of the season we could really see a big gap to Mercedes and Ferrari.
"In Austria it was okay; we were strong, but for the next race, I cannot guarantee we'll be a strong, that we'll have the same competitiveness compared with the others.
"It means we need to keep pushing very hard, to get the confidence that we are strong and that when we'll make no mistakes we will win. We want to have that level and need to keep pushing."
Gallery: The beautiful wives and girlfriends of F1 drivers
Keep up to date with all the F1 news via Facebook and Twitter